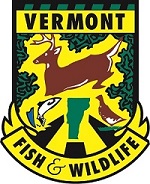 Vermont Bear Hound Association President Butch Spear and Vermont Bear Biologist Forrest Hammond will speak about the legal, regulated hunting of bears with hounds in Vermont and the challenges of co-existing with bears in Bradford on Saturday, February 22. 
Hammond says Vermont is home to approximately 5,000 bears with the great majority of them avoiding contact with humans.  In recent years, however, bears have expanded their numbers and distribution in the state, resulting in more negative interactions between them and people. 
The Vermont Fish and Wildlife Department receives hundreds of calls from the public each year regarding bears destroying birdfeeders, getting into garbage and compost as well as causing extensive damage to beehives, crops and buildings and sometimes killing livestock and pets. 
There were 122 people licensed to use trained hounds to pursue bears in 2019.  Only 120 bears (16 percent of the total) were harvested with the use of hounds last year. 
Hammond says trained hounds are a useful management tool to keep bears from causing extensive damage.  They are routinely used to haze bears from cornfields and other areas where left un-checked bears can cause considerable financial loss to farmers. 
"Many hound owners work closely with their local game wardens to reduce the damage caused by bears, especially during years when natural foods are in short supply," added Hammond.  "Come learn about the biology and behavior of wild black bears and how hounds and other methods can be used to help keep bears wild and out of our back yards."
The free presentation will be held from 2:00 to 5:00 p.m. at the Bradford Academy, 172 North Main Street, Bradford, VT 05033. 
For Immediate Release:  February 12, 2020
Media Contact:  Forrest Hammond 802-289-0626; Mark Scott 802-777-4217