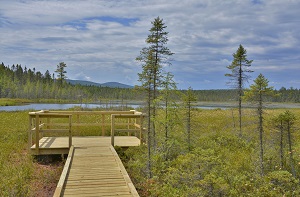 A new boardwalk at the popular Moose Bog will provide additional opportunities for people to see wildlife in Vermont's Northeast Kingdom.  The boardwalk, which was built to comply with the Americans with Disabilities Act, provides an immersive experience in nature at the Wenlock Wildlife Management Area in Ferdinand, Vermont. 
The project was completed by the Vermont Fish & Wildlife Department and Vermont Department of Forests, Parks, & Recreation using labor from the Northwoods Stewardship Center.  A financial contribution from the Northeast Kingdom and Ammonoosuc chapters of the Audubon Society in Vermont and New Hampshire will fund the cost of interpretive signs which will be built this coming winter.  
"Moose Bog is a very popular spot, with a beautiful view and fantastic opportunities to see wildlife," said Doug Morin, a wildlife biologist with the Vermont Fish & Wildlife Department.  "In just a short one-mile trip, visitors may spot rare boreal forest birds such as spruce grouse, boreal chickadees, grey jays, and black-backed woodpeckers, in addition to the chance to see a moose. The bog itself is a beautiful black spruce bog, with a floating mat of sphagnum moss and many rare bog plants such as Labrador tea, pitcher plants, and sundew." 
Morin cautions that while the crew worked to make the trail comply with national ADA standards, it is still a one-mile round trip and involves some elevation gain, so the full trip may not be appropriate for everyone. Visitors can also enjoy other nearby ADA-accessible state lands at Sentinel Rock State Park and Brighton State Park.
"We want Vermont's 98 wildlife management areas to be accessible to all Vermonters and visitors, and that includes people with limited mobility," said John Austin, who manages Vermont Fish & Wildlife's Lands and Habitat Program.  "Because Moose Bog is so close to Route 105 and is so popular with birders and other wildlife enthusiasts, we decided a boardwalk would give more people the chance to experience this incredible place."  
Austin says that autumn is a great time to view wildlife in Vermont, as birds embark on their fall migration, and moose and deer are displaying full antlers during the fall mating season.  "With nearly 140,000 acres and locations in every corner of the state, Vermont's wildlife management areas provide wildlife enthusiasts with endless options to get outdoors, go hunting, catch a fish, see birds, or capture a fantastic nature photo." 
For Immediate Release:  October 3, 2018
Media Contact:  Doug Morin 802-793-3837; John Austin 802-371-9895