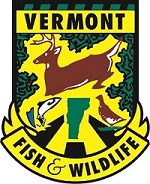 MONTPELIER, Vt. -- Hunters, landowners and anyone else interested in deer and moose should plan on attending one of the Vermont Fish & Wildlife public hearings being held this spring.
The hearings will include results of Vermont's 2018 deer hunting seasons and prospects for deer hunting next fall as well as an opportunity for people to comment.
Three of the hearings in the north will cover deer but also include 2018 moose hunting results and the Fish & Wildlife Department's proposal to not hold a moose hunt this year because of needed regulation changes. 
The hearings are scheduled for 6:30 to 9:00 p.m. as follows:
DEER -- Monday, March 25 – Rutland High School, 22 Stratton Rd., Rutland, VT 05701
DEER & MOOSE -- Wednesday, March 27 – Montpelier High School, 5 High School Dr., Montpelier, VT 05602
DEER & MOOSE -- Thursday, March 28 – St. Albans Town Education Center, 169 S. Main St., St. Albans, Vt 05478
DEER -- Monday, April 1– Mt. Anthony Union High School, 301 Park St., Bennington, VT 05201
DEER & MOOSE -- Tuesday, April 2 – Lake Region Union High School, 317 Lake Region Rd., Orleans, VT  05860
DEER -- Thursday, April 4 – Riverside Middle School, 13 Fairground Rd, Springfield, VT 05156
For Immediate Release:  March 12, 2019
Media Contacts:  Louis Porter 802-828-1454; Scott Darling, 802-786-3862; Mark Scott, 802-777-4217