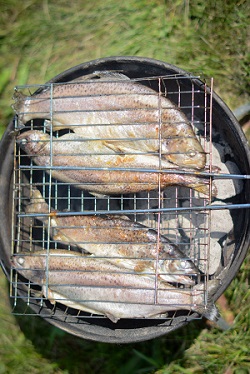 Our streams, lakes and woods are teeming with high-quality, local food that is rooted in the Vermont's heritage – as long as one knows how to cook it!  That's why the Vermont Fish & Wildlife Department is partnering with Rooted in Vermont, a program of the Vermont Farm-to-Plate Network, for a "Field-to-Fork: Wild Food Cooking Series" this July and August to help Vermonters learn more about what game foods are available all around them and how to make them into a delicious meal.
"Similar to sourcing food from our local farms, hunting provides many of the same personal and landscape benefits," said Nicole Meier, information and education specialist with the Vermont Fish & Wildlife Department.  "We want interested Vermonters to identify their own local food opportunities and understand that delicious, nutritious food can be found in our forests, fields, and waters."
Three hands-on seminars will take place July 30 at the Barre Fish and Game Club, August 7 at the Ilsley Public Library in Middlebury, and August 14 at City Market's South End campus in Burlington.  Each seminar will feature experts in preparing wild game who will help participants learn the basics of preparing and cooking fish, bear and deer and will also include time to enjoy the tasty creations made during the seminar.  The seminars are free and open to the public and no previous experience is necessary to attend.
"Vermonters have been hunting and fishing for food since people have lived here, but for those who haven't grown up with it, the prospect of catching or hunting your own food can be daunting," said Shane Rogers, Rooted in Vermont project manager.  "That's why these seminars are a perfect first step for anyone who is interested in learning more about all the wild foods that surround us, how easy it can be to cook with them and how good they taste."
"Field-to-Fork: Wild Food Cooking Series" is being held with the support of the National Wild Turkey Federation, Backcountry Hunters and Anglers and LL Bean.
Learn more and register at www.vtfishandwildlife.com or email Nicole Meier, information and education specialist, Vermont Fish & Wildlife Department at Nicole.Meier@vermont.gov.
For Immediate Release:  July 2, 2019
Contacts:  Shane Rogers, 802-828-0404; Nicole Meier, 802-318-1347