Steam Mill Brook Wildlife Management Area Expands by 225 Acres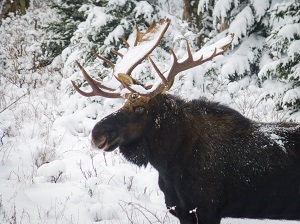 The Vermont Fish & Wildlife Department has announced that one of the state's largest wildlife management areas, Steam Mill Brook WMA, in the towns of Walden, Stannard, Wheelock and Danville, has expanded by 225 acres as the result of a recent land acquisition. 
The WMA comprises roughly 11,000-acre tract of land in Caledonia County that is permanently conserved and is managed to enhance wildlife habitat as well as public access for wildlife-based recreation such as hunting, fishing, wildlife-watching, photography, or gathering wild edibles. 
Considered a high priority for conservation by the Department and Vermont Agency of Natural Resources, as evidenced by the recently completed Vermont Conservation Design project, the Steam Mill Brook area contains a large expanse of unbroken forests and provides an important corridor for wildlife moving between the Worcester Mountain Range and the Northeast Kingdom.
"Wildlife is increasingly under threat from climate change and forest fragmentation.  Intact forests that serve as movement and migration corridors are becoming ever-more important for wildlife such as songbirds, moose and black bears to continue to thrive," said John Austin, lands and habitat program manager for Vermont Fish & Wildlife Department. "Our department is working with partners and willing landowners to achieve landscape-scale conservation in these high-priority areas."
The newly conserved land area has been managed to create young forest habitat that is critical for many species of wildlife, from chestnut-sided warblers to American woodcock to moose.
"Every time a biologist has visited this property, they've seen an abundance of wildlife and wildlife sign," said Austin.  "Adding this property to Steam Mill Brook WMA offers outstanding opportunities for all people who appreciate Vermont's wildlife, from hunters to bird-watchers." 
This property is the second piece to be added to Steam Mill Brook WMA in recent months, with a donation of 47 acres being added to the property earlier in the year.  The land was donated by the Johnson Company, an engineering firm that works across the eastern United States with an office in Montpelier. 
The Vermont Fish & Wildlife Department owns and manages 98 wildlife management areas throughout the state, comprising nearly 145,000 acres, for fish and wildlife habitat and public access. 
For Immediate Release:  October 8, 2018
Media Contacts: Jane Lazorchak, 802-505-0561; Cedric Alexander, 802-371-9895