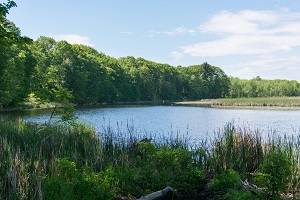 Vermont Fish & Wildlife Department is continuing its series of free biologist-led educational seminars this summer with two events in August covering topics from fish species in the Northeast Kingdom to unique natural communities found on the department's wildlife management area in Colchester. The walks are led by biologists with decades of experience conserving Vermont's wildlife and their habitats. Participants are encouraged to bring snacks and water, and dress in footwear and clothing appropriate for walking slowly in the woods. Information about these and other department-sponsored public events and registration  is at www.vtfishandwildlife/calendar.  
Guided Canoe and Kayak Paddle, Saturday, August 3 (rain date: August 10), 9:00 a.m. to 3:00 p.m., South Bay Wildlife Management Area, 3070 Coventry Station Road, Coventry, Vermont
Join State Fish Biologist Pete Emerson for a guided paddler's tour of the lower Barton River and South Bay of Lake Memphremagog. The Barton River is one of three main Vermont tributaries to Lake Memphremagog and is a popular spring fishery for steelhead rainbow trout.
Although the steelhead attract the most attention, the Barton is also home to many other fish and wildlife species. Pete will talk about the fishery in the river and the lake; the relationship between fish and a healthy, forested streambank; and the State lands that border the river. Prepare for a fun day on the water. Bring your own canoe or kayak and lunch. (See map)
Halfmoon Cove Natural Community Walk, Tuesday, August 6 (rain date: August 7), Time: 5:00 to 7:00 p.m., Halfmoon Cove Wildlife Management Area, 670 Heineburg Drive, Colchester, Vermont
The lower Winooski River supports a unique and intriguing ecosystem that includes floodplain forests with their tall arching trees, wet swamps, and flooded marshes. Come learn about these natural communities, and the many plants and animals that inhabit them with State Lands Ecologist Bob Zaino. This trip will involve a moderate walk on flat ground but requires walking off-trail and across wet ground. Waterproof boots are recommended. (See map)
For Immediate Release: June 24, 2019
Media Contacts:  Pete Emerson, 802-353-4818; Bob Zaino, 802-279-5320