Telephone Survey About Conservation Law Enforcement Issues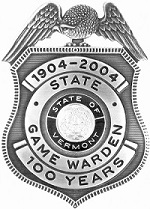 The Vermont Fish and Wildlife Department is working with the National Association of Conservation Law Enforcement Chiefs and Responsive Management, a firm specializing in researching attitudes toward natural resources and outdoor recreation, on a nationwide study about the future of law enforcement conservation in the United States.  As part of this study, Vermont residents are now being surveyed by telephone about their opinions on  conservation law enforcement issues.
You do not have to participate in outdoor recreation or be knowledgeable about any specific issues to qualify for the survey – the researchers are looking for input from all residents.  This is a scientific, probability-based survey, which means only that you can participate in the survey if you are randomly selected to do so.  This is why your participation in the survey is so important.  As a survey respondent, you are representing many other Vermont residents.
"We encourage you to participate in the survey if you happen to receive a call from one of Responsive Management's telephone interviewers calling on behalf of the Vermont Fish and Wildlife Department," said Chief Game Warden Colonel Jason Batchelder.  "The survey takes about 10 minutes, and the results will help fish and wildlife agencies nationwide understand U.S. residents' perceptions of important conservation law enforcement issues." 
For Immediate Release:  October 23, 2019
Media Contact:  Col. Jason Batchelder 802-828-1529