The 2019 Vermont Fish & Wildlife Calendar is Available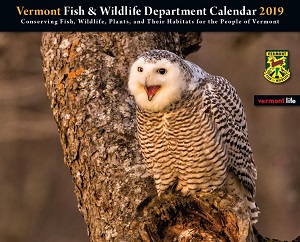 MONTPELIER, Vt. – Vermont Fish & Wildlife Department announces the release of the colorful 2019 Fish & Wildlife Calendar. The calendar is filled with stunning photos of Vermont wildlife, including moose, bald eagle, longnose gar, white-tailed deer, and yellow warbler.  It includes photos by many well-known Vermont photographers including Roger Irwin, Jim Block, and Kurt Budliger. 
"This year's calendar features the wild places that are crucial for wildlife to thrive, with tips for managing habitat on your property," said Susan Warner, Vermont Fish & Wildlife's director of outreach and education. "Vermont's working landscape and healthy fish and wildlife populations are a testament to the foresight of citizens who care about the state's natural heritage. This fish and wildlife calendar is a yearlong celebration of Vermont's commitment to conservation." 
The calendar includes hunting, fishing and trapping season dates for each month, along with beautiful photography, and makes the perfect gift for any outdoor recreationist.  These calendars usually sell out early, so get your copy today.
Following the folding of Vermont Life, calendars are no longer available in stores.  They are available online at www.VermontLifeCatalog.com or at Vermont Fish & Wildlife Department offices in Montpelier, St Johnsbury, Springfield, or Essex Junction.
For Immediate Release:  November 8, 2018
Media Contact:  Susan Warner 802-828-1000