The 2020 Vermont Fish and Wildlife Calendar is Available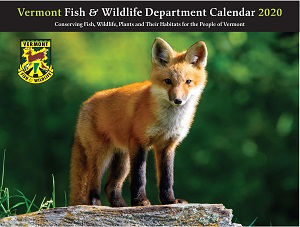 Vermont Fish and Wildlife's colorful 2020 calendar is now available.
The calendar is filled with stunning photos of Vermont wildlife, including white-tailed deer, snowshoe hare, great blue heron, red fox, brown trout, common loon, black bear, porcupine, great gray owl, and snow geese.  It includes photos by many well-known Vermont photographers including Roger Irwin, Daniel Berna, Kurt Budliger, Josh Blouin, Bryan Pfeiffer, and Ian Clark. 
'100 Wildlife Management Areas (WMAs) in 100 Years' is the calendar theme celebrating 2020 as the 100-year anniversary of when the Fish and Wildlife Department purchased its first state wildlife area – the Sandbar Waterfowl Refuge in Milton," said Fish and Wildlife Commissioner Louis Porter.  "The department has purchased close to 100 WMAs over the years, totaling more than 130,000 acres, that provide valuable habitats for wildlife and unique opportunities for the public to enjoy Vermont's fish and wildlife resources through hunting, fishing, trapping, and wildlife watching." 
The purchase and management of WMAs has been primarily funded through the sale of hunting and trapping licenses, as well as federal taxes on firearms, ammunition and archery equipment.  The department now uses this money, along with other important funding, including the Vermont Duck Stamp fund along with support from the Vermont Housing and Conservation Board, among others, to acquire land for wildlife habitat management benefitting all wildlife and for the public to be able to access and enjoy these areas.
In recent years, public support of the voluntary Habitat Stamp has also helped fund habitat restoration and management on WMAs. 
The calendar includes hunting, fishing and trapping season dates for each month, along with beautiful photography, and it makes the perfect gift for any outdoor recreationist. 
The calendar is available for $15 at Vermont Fish and Wildlife Department offices in Montpelier, Barre, St Johnsbury, Springfield, Rutland, and Essex Junction – and with a printable free-shipping order form on their website  www.vtfishandwildlife.com.
For Immediate Release:  October 7, 2019
Media Contact:  Commissioner Louis Porter 802-828-1454