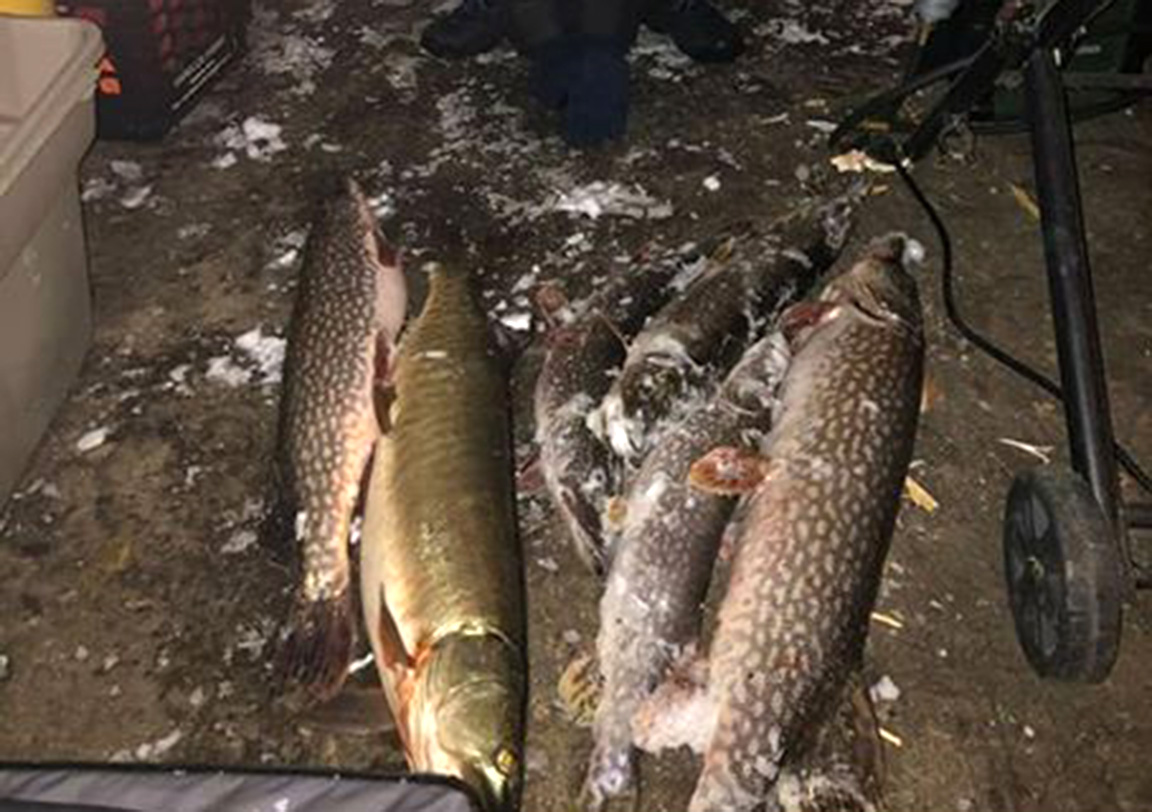 HIGHGATE, Vt. – A Franklin County ice angler was charged Monday after harvesting and possessing a muskellunge (muskie) caught in Lake Champlain.
Vermont State Game Wardens received numerous tips that the individual had posted photos on a social media platform displaying the large muskie with other fish caught over the weekend.
The ice angler was interviewed and told a Game Warden the fish was caught through the ice on Lake Champlain but despite not knowing what it was, brought it home. The muskellunge was seized, and the angler was fined for the violation.
Anglers may legally target and catch muskellunge in Vermont, but only on a catch-and-release basis. Harvest of the species is prohibited as the Vermont Fish and Wildlife Department actively works to restore the population of this native species to Lake Champlain.
Department fisheries biologist Shawn Good, who heads up the state's pike and muskellunge management program, said the illegal harvest of this and other muskie can harm restoration efforts.
"This muskie, which was 34" in length, is likely 7 years old – one of 7,500 fish stocked into the Missisquoi River in 2013 as 5-inch fingerlings. It's beaten the odds, managing to avoid being eaten by bass, bowfin and other predators when it was young, and it has survived, grown and reached maturity."
Good says large, spawning-aged individuals are highly valuable to the success of the muskellunge restoration program.
"Fishing regulations exist for a purpose, and in this case, the no-harvest rule is designed to protect stocked muskie as they grow, reach maturity and hopefully spawn themselves – contributing to the development of a self-sustaining population. This muskie would have likely deposited around 150,000 eggs this spring."
"Growing from 5 to 34-inches in just six years demonstrates that we have the potential to develop a really great recreational fishery for muskie here in Vermont," said Good. "We have great habitat and ample food resources. Muskie have the potential to reach 60 inches in length and provide a truly amazing recreational fishing opportunity. We just need to give them a chance to grow and reproduce. The ultimate goal is to have a fishery that can support some level of angler harvest in the future."
Fish and Wildlife enforcement and biological staff remind anglers that unidentified fish should be returned to the water immediately.
VTF&W photo caption: This large muskie with several northern pike should have immediately been released when caught.
Media Contacts:
Shawn Good Fisheries Biologist, 802-786-3863
Lt. Carl Wedin State Game Warden, 802-879-5669