Timothy Carey is Vermont's Warden of the Year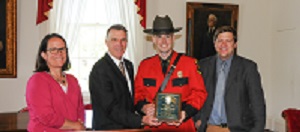 Senior Warden Timothy Carey of Mount Holly is Vermont's State Game Warden of the Year.  A game warden since 2013, Carey received the award in recognition of his excellent service from Governor Phil Scott on June 4 in Montpelier.
"I want to thank Timothy for his outstanding performance in protecting Vermont's fish and wildlife resources and serving the people of Vermont," said Governor Scott.  He added that "Warden Carey was chosen for his integrity, professionalism and high motivation in all of his work duties, and that he has earned respect from other wardens and the public."
"Senior Warden Carey is a consummate professional who effectively enforces hunting, fishing and trapping laws," said Fish & Wildlife Commissioner Louis Porter, "and in 2018 he responded to more than 217 incidents and made 21 arrests.  He displays a keen sense of judgment, treating all people fairly and with dignity, regardless of the situation."
Warden Carey also is a field training officer and an emergency medical technician as well as serving on the Vermont State Game Wardens' Honor Guard.
In 2018, he found an injured elderly hunter who had fallen and had been on the cold, wet ground with a broken leg for 12 hours.  Using his EMT skills, Carey provided emergency treatment until a rescue crew arrived to transport the hunter out of the woods.  He also administered CPR to a mountain biker who had experienced cardiac arrest.  And, he has been on many search and rescue operations, including a successful search for a downed airplane.   
Warden Timothy Carey's district includes the towns of Clarendon, Shrewsbury, Plymouth, Wallingford, Mount Holly, Ludlow, Mount Tabor, Weston, Andover, Peru, Londonderry, Winhall, and Windham.
Shikar-Safari Club International, a private wildlife conservation group, sponsors a warden of the year award in each state and Canadian province to help promote and encourage the enforcement of wildlife conservation laws.  Carey received a colorful framed certificate honoring his selection as Vermont's State Game Warden of the Year, provided by Shikar-Safari Club International.
For Immediate Release:  June 4, 2019
Media Contacts:  Commissioner Louis Porter, 802-828-1454
Colonel Jason Batchelder, 802-828-1529