Two Men Apprehended in Middlebury for Poaching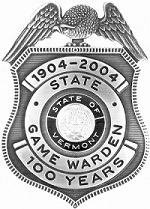 Two young men were apprehended for poaching by police and State Game Wardens early Sunday morning after a caller noticed suspicious activity near the Abbey Pond trailhead in Middlebury, according to an announcement from the Vermont Fish and Wildlife Department.  
The two men, whose names are being withheld at this time, were in the process of unloading and field-dressing a buck deer they had shot illegally an hour earlier in Cornwall.  The men's weapons and a 2020 Chevy Silverado were seized and are currently impounded at the New Haven State Police barracks.
The two men have been under investigation for a string of fish and wildlife crimes that occurred in the Middlebury and New Haven area over the past five weeks.  The investigation is ongoing, but at this time the men are linked to at least five illegally killed deer and a wild turkey.   All of these animals were allegedly shot from the road, and some were shot at night.  The weapons used were a 30-06 rifle and a .22 caliber rifle.
The deer were processed and hung from a tree in the woods near the Abbey Pond trailhead and at a local concrete plant.  The men were preparing to process the last deer when a concerned citizen called to report suspicious activity which led to their apprehension by Middlebury Police, the Vermont State Police, and a Vermont State Game Warden.
The investigation is ongoing, and anyone who may have information about these incidents is encouraged to contact their local game warden through the New Haven State Police at (802) 388-4919 or anonymously by calling Operation Game Thief at 1-800-75ALERT (1-800-752-5378).
For Immediate Release:  November 5, 2019
Media Contacts:  Col. Jason Batchelder 802-828-1529; Lt. Justin Stedman 802-324-1715