Vermont's Fall Fishing Opportunities Abound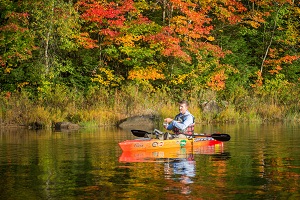 MONTPELIER, Vt – Vermont is renowned for its colorful fall foliage but fall also offers some of the best fishing opportunities of the year according to the Vermont Fish & Wildlife Department.  Water temperatures are cooling. More solitude -- fewer people will be on the water.  Bass and northern pike go on feeding binges.  And lake trout, landlocked salmon, brown trout, and brook trout are preparing to spawn.   
 The cooler water temperatures of fall stimulate Vermont's largemouth and smallmouth bass as well as northern pike to feed heavily, bringing some of the best fishing of the year at a time when you won't see much competition from other anglers. 
"Bass fishing heats up as water temperatures cool down," said Bernie Pientka, a fisheries biologist with Vermont Fish & Wildlife.  "If you would like to get in on some unbelievable fishing, you need to get out on the water this fall.  Lake Champlain, and lakes St. Catherine, Morey, Bomoseen, Hortonia, and Seymour have fantastic fishing for both largemouth and smallmouth bass as well as other species, and the bass season doesn't end on most lakes until November 30th."
Several species that are typically difficult to catch without boats and specialized equipment become more predictable and easier to catch as they start migrating toward spawning areas.  Lake trout move onto their spawning reefs, often close to shore, in mid-October and will be there until mid-November.  Places to target them on Lake Champlain include the ledges off Button Bay State Park, Arnold's Bay and the west shore of Grand Isle.  
Even though steelhead spawn in the spring, some will often begin migrating into their spawning rivers in the fall such as Lewis Creek in North Ferrisburgh and the Black and Willoughby Rivers in the Northeast Kingdom. 
Landlocked Atlantic salmon migrate in the fall into several Lake Champlain rivers and provide shore-based river fisheries.  Try the Salmon Hole on the Winooski River, below Peterson Dam on the Lamoille River and the west shore of Grand Isle.  Lake Memphremagog salmon also enter the lower Clyde River at Newport in the fall, but the fishing there is catch-and-release with artificial flies or lures from September 1 through October 31.
For Immediate Release:  September 20, 2018
Media Contact: (for Champlain) Bernie Pientka 802-879-5698; Shawn Good 802-786-3863;
(for the NEK) Jud Kratzer 802-751-0486; Peter Emerson 802-751-0485