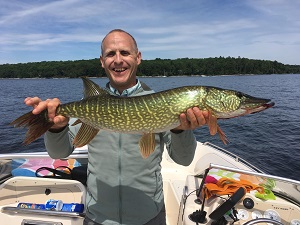 COLCHESTER, Vt. – Drew Price of Colchester, VT, has completed the state's first-ever 'Master Angler Sweep' by catching at least one trophy-sized specimen of all 33 eligible fish species that are part of the Vermont Fish & Wildlife Department's Master Angler Program.
Price spent eight years in his quest to be the first to catch and enter all 33 species in the Vermont program.
"This is a remarkable achievement," said fisheries biologist Shawn Good, who founded the Master Angler Program with fisheries biologist Jud Kratzer and currently administers it. "He called me from the lake moments after landing his final species – a 30-inch pike-pickerel hybrid. He was kind of deliriously happy and I don't blame him."
Price, who started fly fishing in 1993, said "Once I found fishing, I was like 'this is it, this is my calling.'" In 2010, he began entering fish in the department's new Master Angler Program, spending the time he wasn't working as a full-time school teacher or as a part-time fishing guide targeting the species listed in the program.
"Back then, Drew was exclusively a fly angler," said Good. "He was interested in the Master Angler Program and considered it a personal challenge. When he said he intended to catch all 33 species on the list using fly-fishing gear, I wasn't convinced it was possible, but I encouraged him to try."
By the end of 2010, Price had caught 12 species, all with his fly-rod. Two seasons later he had hit 24 species, still all on the fly. He was relentless in learning, reaching out to fisheries biologists and other anglers to learn much as he could.
"Around 2014, he started sputtering in his progression through the list using fly-fishing gear," said Good. "Then he did exactly what I had hoped this program would inspire all anglers to do: he adapted and grew as an angler, changed tactics, and kept going."
Price took on ice fishing, even though he had never ice fished in his life, and is now an avid ice angler. He had never owned a spinning rod and reel – the standard fishing equipment used for fishing with bait and lures. He now has several. "Drew realized he'd gone as far as he could with a fly rod and acknowledged that there were just some species he was going to have to switch gears to catch."
Using this new equipment, Price started targeting species that anglers sometimes find difficult to catch, especially larger "trophy-sized" individuals. American shad. Cisco. Eel. One by one he figured out where to fish and how to catch them. But the pike-pickerel hybrid continued to elude him.
"Pike-pickerel hybrids are random and rare, and occasionally Drew would gripe to me about their inclusion on the Master Angler list," said Good. "But he never gave up. He contacted people on online forums who mentioned catching one and focused on fishing in areas where chain pickerel and northern pike overlap. He fished for the last three years specifically targeting these hybrids. This summer, he finally caught his 'white whale.'"
Along the way to completing the first-ever Master Angler Sweep, Price continued fishing for all the other species, earning his Master Angler Pin every year since the program was founded. Master Angler pins are awarded annually to anglers who catch five different species from the list within a calendar year.
"The Master Angler Program really showcases the diversity of fish and fishing opportunities available in Vermont," said Price. "I appreciated the fantastic challenge of trying to catch all 33 fish species. It allowed me to combine my love of fish with my love of the outdoors, as well as my interest in the artistry of fly-tying. I'd recommend that all people with a love of fishing learn more about Vermont's Master Angler Program."
For Immediate Release: July 25, 2018
Media Contacts: Shawn Good, 802-786-3863