Vermont Fish & Wildlife Biologist Honored with the William T. Hesselton Award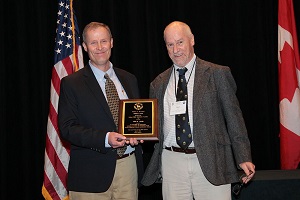 Montpelier, VT—The Northeast Wildlife Administrators Association recently awarded John Austin, manager of the Vermont Fish & Wildlife Department's (VFWD) Habitat and Lands Program, with the 2019 William T. Hesselton Memorial Award.
Austin received the award at the annual meeting of the Northeast Fish and Wildlife Agencies in Groton, CT, in recognition of his significant contributions to conservation and his initiative towards furthering the ideals of the Federal Aid in Wildlife Restoration Program.
"John is an extraordinary wildlife biologist and has been critical to the successful management of wildlife in Vermont and beyond," noted Mark Scott, director of VFWD's wildlife division. "John has become highly respected throughout Vermont's conservation community both for his scientific work and his diligent efforts with key partners and internal state agencies to develop essential policies, organizational plans, and land management practices to protect and enhance wildlife habitat, including his work with colleagues to establish a legal precedent in Vermont to consider wildlife habitat connectivity in reviewing development projects."
One of Austin's most significant contributions to wildlife conservation in Vermont has been his leadership and guidance protecting habitat through the department's role in various state and federal land use regulatory processes, which to date have spanned thousands of projects, resulting in the protection of tens of thousands of acres of necessary wildlife habitat. 
Austin has also played a key role in developing Vermont's Fish & Wildlife first strategic land acquisition plan, providing guidance for how the department can best achieve its conservation priorities throughout the state. Also noteworthy has been Austin's leadership and active participation as co-chair of a group commissioned by the New England Governors and Eastern Canadian premieres to develop recommendations for implementing conservation of the connected forested landscape of the Northeast region. In total, Austin has worked for the department for 25 years. 
"John provides essential leadership and direction for many projects that become complex, multi-decade endeavors to protect valuable wildlife habitats," commented Louis Porter, Vermont Fish & Wildlife Commissioner. "Vermont is very fortunate to have him."
For Immediate Release: April 29, 2019
Media Contact:  John Austin, 802-476-0197; Mark Scott 802-777-4127