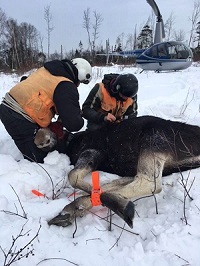 Northeast Kingdom residents may soon see a helicopter flying low overhead as the Vermont Fish & Wildlife Department begins collaring 30 moose for the third year of a three-year study.
The radio-collaring will be carried out primarily within Essex County by a professional contractor, Native Range, Inc. Capture could begin as early as January 10 depending on weather conditions. Capture efforts require flying just above tree height and are expected to take between 5 and 10 days.
Wildlife experts with Native Range will be using nets to capture moose from the helicopter and handling it without the use of tranquilizers. The processing of a captured moose is completed in minutes and is done using well-established wildlife handling techniques that minimize stress and harm to the animal. Ninety-six moose have already been captured using these methods thus far in the study.
Department staff having been tracking collared moose for the past two years using the GPS points gathered by the collars and have been visiting moose directly in the field to record observations. Vermont is the fourth northeastern state to partake in such a study – state fish and wildlife agencies in New Hampshire, Maine, and New York are currently using the same methods to examine their moose herds. The study will be completed at the end of 2019.
"Many local residents may have noticed these helicopters capturing moose in January of 2017 and 2018, but we felt all Essex County residents and landowners should once again be made aware of this activity," said Cedric Alexander, Vermont Fish and Wildlife's lead moose biologist. "Moose in the Northeast are facing a variety of threats ranging from a warming climate to increasing winter tick loads, and we appreciate the public's support as we study how these factors are impacting Vermont's moose population."
Members of the public or landowners who have questions or concerns about the helicopter activities can call the St. Johnsbury district office at 802-751-0100. For more information, go to www.vtfishandwildlife.com.
For Immediate Release: January 3, 2019
Media Contact: Mark Scott 802-828-1478; Scott Darling 802-777-1732; Cedric Alexander, 802-751-0105