Warm Summer Water Temperatures Can Be Lethal to Trout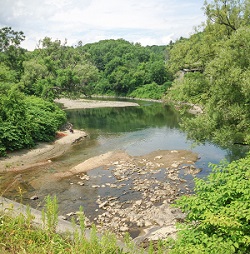 MONTPELIER, Vt –The Vermont Fish & Wildlife Department and the Vermont Council of Trout Unlimited are encouraging anglers to consider their impact on trout when fishing during the current hot, dry weather. 
Many of the trout streams and rivers throughout Vermont are currently at or above stressful temperatures for trout and flows in most rivers are already dangerously low. 
"Trout prefer water temperatures in the upper-50's to mid-60's and become increasingly stressed when water temperatures climb above 70°F," said Clark Amadon, Chair of the Vermont Council of Trout Unlimited.  "The stress of being caught by an angler when water temperatures are this warm makes it much more likely that the trout will die after being released."
As a result, officials are recommending that anglers do not fish for trout during extended hot spells if they do not also intend to harvest their catch for a healthy meal of fresh fish.  Instead, consider targeting warmwater fish species such as bass, northern pike, bowfin, or panfish. Anglers who do practice catch-and-release fishing for trout or any other species should remember to take steps such as playing the fish quickly, keeping the fish in the water as much as possible, and releasing the fish without injury to improve the fish's chances of survival.
Warm water temperatures also serve as a reminder about the importance of naturally vegetated shorelines.
"Maintaining vegetated areas along streams and rivers is critical to provide shade that keeps water cool, even when air temperatures rise," said Lee Simard, a fisheries biologist with the Vermont Fish & Wildlife Department.  "Allowing trout to move to coldwater areas when the waters warm is also critical to maintain healthy and robust trout populations throughout Vermont.  This is one reason we are constantly working to provide aquatic organism passage by removing dams and replacing impassable culverts."
For Immediate Release:  July 17, 2018
Media Contacts: Lee Simard, VFWD, 802-622-4017
Clark Amadon, Vermont Council of Trout Unlimited, 802-498-7570