What a Four-Deer Bag Limit Really Means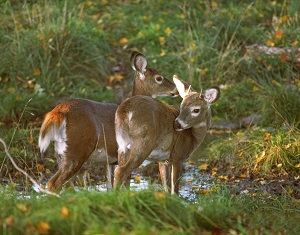 The Vermont Fish & Wildlife Department says a few recent news reports may have created some confusion over the annual bag limit change in the proposed deer regulation which will go into effect in 2020. 
Nick Fortin, the department's deer biologist, says there is a misperception by some hunters that this change will result in the overharvest of antlerless deer and cause unnecessary population declines when it is simply not the case.
"The change to the bag limit and the other proposed changes to deer hunting rules are not intended to dramatically increase the antlerless harvest," said Fortin.  "Rather, they are designed to help deer managers better target the antlerless harvest to the areas where it is most needed without unnecessarily impacting deer populations in other areas."
Currently in Vermont a hunter can harvest three deer per year.  Up to two of those deer can be legal bucks, but all three can be antlerless deer if the hunter wishes to do so.  The proposed bag limit is four deer per year, only one of which can be a legal buck.  Antlerless deer cannot be harvested during the regular rifle season, so the only way a hunter can harvest three or four antlerless deer is to harvest at least two during the archery season or the muzzleloader and antlerless seasons.
Fortin points out that very few hunters currently harvest three deer in a year, and even fewer harvest three antlerless deer.  In most years, 300-400 hunters have the right combination of luck and skill to harvest three deer, and less than 10 percent of those (30-40 hunters) harvest three antlerless deer.  Since a hunter must harvest three antlerless deer before they can harvest a fourth one, the increased bag limit will have little or no impact on the overall deer harvest.  However, it does allow a few effective hunters to harvest additional antlerless deer in the areas where it is most needed.
To harvest an antlerless deer during the muzzleloader season or the new four-day muzzleloader antlerless season, a hunter must have a lottery antlerless deer permit.  The number of these permits is determined annually by the department and Fish and Wildlife Board, and the only way to obtain more than one permit is for a hunter to hunt in a wildlife management unit with unallocated permits remaining after the lottery.  Most areas will not have unallocated permits available in most years, and those that do will be areas where the department would like more antlerless deer to be harvested.
The archery antlerless harvest is not limited, and therefore is and will be the primary means for hunters to harvest additional antlerless deer.  Due to the practical challenges and limitations of archery hunting, most of the harvest during this season occurs in areas with greater numbers of deer.  Archery hunting is also the most effective tool for managing deer in developed areas where firearm hunting is prohibited, not tolerated, or otherwise ineffective.  In coming years, the department will begin establishing Expanded Archery Zones in developed areas around major cities and towns, and the increased bag limit will encourage additional archery antlerless harvest in these areas.
"Reducing the number of legal bucks a hunter can harvest from two to one has two primary purposes," said Fortin.  "First, it reduces the number of bucks that get harvested, which helps more bucks survive and provides the older, larger-antlered bucks that many hunters are interested in.  Second, it shifts the hunters' focus from bucks to antlerless deer.  Vermont hunters are much more focused on bucks than hunters from most other states, which creates challenges for deer management.  While there are many valid reasons for the focus on bucks, shifting some of it to antlerless deer is a necessary part of deer management in a future with fewer hunters."
For Immediate Release:  August 20, 2019
Media Contacts:  Nick Fortin 802-786-3860