Winooski Man Charged for Poaching Salmon at Hatchery Brook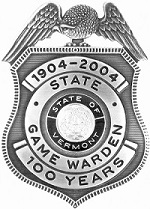 A Winooski man has been charged with fishing in Hatchery Brook near the Grand Isle Fish Culture Station and faces several hundred dollars in fines and restitution. 
Through many hours of over-night surveillance, Vermont State Game Wardens were able to identify and charge Justin Cianchetta, 41, of Winooski with two counts of taking fish illegally.
Wardens received complaints regarding anglers fishing in Hatchery Brook during late night and early morning hours in late October and early November.  Hatchery Brook is closed to fishing from the mouth of the brook at Gordon's Landing, Lake Champlain, upstream 1,150 feet to the main hatchery driveway off Bell Hill Road.
Fish and Wildlife staff have been conducting biological evaluations of landlocked Atlantic salmon in Hatchery Brook and have been observing wounds consistent with illegal taking. 
During the investigation, wardens executed a search warrant on Cianchetta's residence, seizing fillets from four illegal landlocked salmon, all of which were caught in Hatchery Brook, along with fishing equipment.
If convicted, Cianchetta faces up to $466 in fines and $100 in restitution as well as losing his privilege to hunt, fish and trap in Vermont for one year.  He is scheduled to appear for arraignment in Grand Isle Superior Court on December 19, 2019. 
For Immediate Release:  November 19, 2019
Media Contacts:  Lieutenant Carl Wedin 802-793-9922