Workshop on Taking Action Against Invasive Plants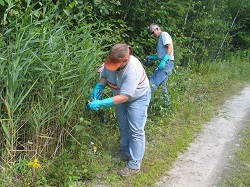 MANCHESTER, Vt. – The Vermont Fish & Wildlife Department and the BattenKill Watershed Comprehensive Invasive Species Management Association are co-hosting a workshop for landowners on combating invasive plants on Saturday, April 27 at 9:30 a.m. in Manchester, Vermont. The workshop is free and open to the public and will last two to three hours. 
Biologist Travis Hart will present at the event.  He will highlight how to identify invasive plants in the region and give landowners tips on what to do if these plants are found on their property.  They will also discuss the impact that these plants can have on wildlife habitat.  The group will meet at the Burr and Burton Academy student parking lot on West Union Street in Manchester and walk over to the Equinox Preserve.
Hart has previously worked with the Natural Resources Conservation Service on habitat management on private lands, and now works on the same project for the Vermont Fish & Wildlife Department.  He is a native Vermonter who has conducted a wide range of conservation initiatives, from assessing stream geomorphology to monitoring bat maternity colonies. 
"Invasive plants can sometimes feel overwhelming, but there are effective ways available to control these species," said Hart.  "Controlling invasive plants benefits a landowner, and it also benefits wildlife by giving native plants space to thrive.  Native plants are important to many wildlife for food, cover, and as nesting sites."
The workshop will be held on easy walking trails, so participants are asked to wear appropriate footwear for walking in the woods.  They are also asked to come dressed in proper attire for the weather, although the workshop will be cancelled in the event of heavy rain.
For Immediate Release:  March 19, 2019
Media Contacts:  Travis Hart, 802-272-0430