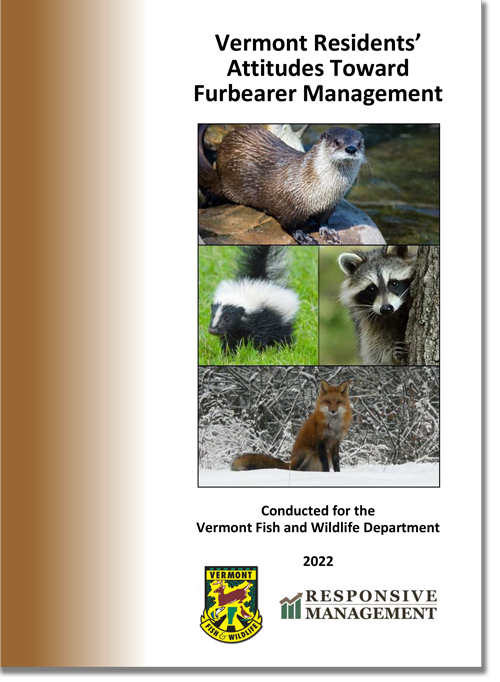 The Vermont Fish & Wildlife Department contracted with a leading natural resource survey firm, Responsive Management, to conduct a survey of Vermont residents' knowledge and opinions of the department and our furbearer conservation efforts. Topics included:
Public attitudes about, and experiences with, common furbearer species
Opinions on furbearer management
Conflicts with wildlife
Knowledge and attitudes about regulated trapping  
The department received the final survey report, which was conducted in October, on November 29, 2022. Like any large, science-based research project, staff will be analyzing the results for many months to come. The findings will be used to inform our current and future furbearer management and outreach efforts. 
Key Takeaways
The majority of Vermonters are satisfied with the department and view the department as credible. 

63% are very or somewhat satisfied; 5% are somewhat or very dissatisfied; 5% are neutral; and 26% did not know (page 12). 
Knowledge of the department was correlated with satisfaction, with 84% of those who reported knowing a great deal about the department being very or somewhat satisfied (page 16). 
Most residents (60%) said the department was very credible; 29% said somewhat credible; 1% said not credible at all; and 10% did not know (page 33). 
 

The survey asked Vermonters about their knowledge and awareness of eight common furbearer species (beaver, bobcat, coyote, fox, fisher, otter, raccoon, and skunk). Knowledge about furbearers was relatively low, ranging from 54% of residents saying they know a great deal or moderate amount about skunks to 21% who said the same about otters (page 69). 
​​​​​
Many Vermonters seem unaware that these abundant, but often elusive species live near them (page 70). 
 
The majority of Vermonters who believed a given furbearer species was around their home were happy with its current population size (page 73). Majorities of Vermonters saw a strong or moderate need to manage beaver, coyote, skunk, and raccoon, pluralities of Vermonters saw a strong or moderate need to manage bobcat, fox, and fisher; and only a third of Vermonters saw a strong or moderate need to manage otter (page 74).
 
The majority of Vermonters support regulated trapping. 
Overall, 60% of residents strongly or moderately support regulated trapping; 29% strongly or moderately disapprove of it; 10% didn't know; and 6% were neutral (page 20). 
 
Knowledge about regulated trapping and approval of different reasons to trap are variable. 

50% of Vermonters incorrectly believed that regulated trapping can cause species to become threatened or endangered (page 54). 
91% of Vermonters strongly or moderately approved of trapping for relocating and restoring wild animal populations, 70% to reduce damage crops and gardens, and 26% for recreation (page 49). 
However, regardless of personal opinions on trapping, 60% strongly or moderately support the right of others to trap, while 25% strongly or moderately oppose the right of others to trap; 10% were neutral; and 5% did not know (page 30). 
Managing Tolerance: The furbearer species deemed most dangerous or most a nuisance (pages 71 and 72) – skunk, beaver, raccoon, coyote, fisher – were also the species most cited as needing management in the survey (page 74). This highlights the need to educate Vermonters about these species and address conflicts. It also suggests that public perception influences peoples' tolerance for furbearer species. The department's mission is to not only ensure healthy, sustainable populations of these important species in Vermont, but also to ensure they remain appreciated and valued by the public.
About the Survey
Responsive Management used a proven, scientific methodology. This survey was telephone-based (both landlines and cell phones), pre-tested, and was statistically representative of Vermont's resident population at a 95% confidence level with standard error of plus or minus 3.4 points. This means that if the survey was conducted 100 times, the same results would be expected in 95 of those times. Many of the results were also stratified by geography, demographics, and length of residency. To track trends, some of the questions had been used in previous department surveys and in other states. As previous surveys have shown, Vermonter's clearly enjoy talking about wildlife; the response rate was high for study of its type. The sample size was 809. 
About Responsive Management
Responsive Management has conducted similar work for every state fish and wildlife agency or equivalent, as well as polling on topics as diverse as urban greenspace and water quality for clients including Stanford and Yale Universities, the Department of the Interior, Sierra Club, Ocean Conservancy, and Environmental Defense Fund.