Evening Bird-Watching Paddle at Dead Creek Wildlife Management Area September 26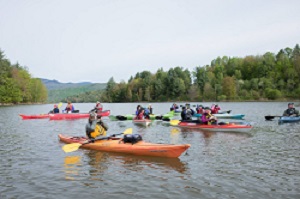 ADDISON, Vt. – Vermont Fish & Wildlife Department staff will lead an evening bird-watching paddle at the Dead Creek Wildlife Management Area in Addison, Vermont on Wednesday, September 26 from 5:00 to 7:00 p.m.
The group will set out in canoes and kayaks hoping to catch a glimpse of the many bird species that are present at Dead Creek during the fall bird migration. Participants must bring their own canoe or kayak, paddles, and life jackets. 
"Dead Creek represents some of the finest birding opportunities in all of Vermont," said Alison Thomas, education manager for Vermont Fish & Wildlife.  "An incredible two hundred bird species can be found there, particularly ducks, shorebirds, and hawks. The fall bird migration represents a great time of year to see birds that might not be present at other times of year." 
People must register ahead of time to join the paddle.  The event is limited to the first 30 people who register at www.register-ed.com/events/view/129563
For Immediate Release:  September 6, 2018
Media Contacts:  Alison Thomas, 802-371-9975