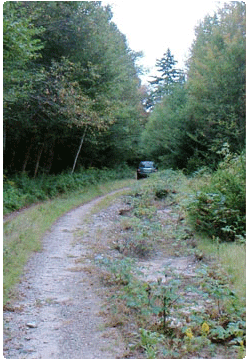 As of October 10, 2022:
Bill Sladyk WMA:  A significant road improvement project will be starting at Bill Sladyk Wildlife Management Area (WMA) to include five miles of gravel road resurfacing, bridge work, culvert installation and replacement, parking lot and broad-based dip installation. This work will affect the roads located north and west of Ben Cole Clearing to include the North, South and West roads.
Portions of the Hurricane Road will also be improved with gravel resurfacing. The East Road, located just past the gravel pit after crossing the Coaticook Brook bridge will also be involved for the first half mile from the Camp Road.
This project will use one-time funds provided by the Vermont Legislature and is required to be completed by the end of 2022. Most roads will remain open during construction, but drivers should use caution, and travel may be delayed at times. Work is expected to be completed by mid-November, barring unexpected contingencies, with the goal to be done by the start of the regular 16-day deer season, which is November 12.
West Mountain and Wenlock WMAs:  Roadside mowing will be occurring along all major roads on Wenlock and West Mountain WMAs during the month of October to include South America Pond, Paul Stream, West Mountain Pond, Dennis Pond, Wheeler Pond, and Notch Pond roads. A small portion of the Wenlock Crossing Road located behind the VELCO station will also be mowed. Please use caution while driving these roads.
Culvert installation and replacement, road resurfacing and installation of broad-based dips has been occurring on the Wenlock Crossing Road and is expected to be completed by October 14. The six-foot culvert on the tributary to Stevens Brook will be replaced by a bridge in the summer of 2023.
Background
West Mountain WMA is the largest wildlife management area in Vermont. It is a vast area of bogs and evergreens and is known for its remote character and large moose population.
Since 1999, the Agency of Natural Resources has managed West Mountain WMA for natural resource conservation and public access, and has managed a public access easement on adjacent lands now belonging to the Weyerhaeuser Timber Company. This complex project has involved collaboration with partner organizations including The Nature Conservancy, Vermont Housing and Conservation Board, Vermont Land Trust, and Weyerhaeuser, as well as numerous local and state constituent groups.
See also: