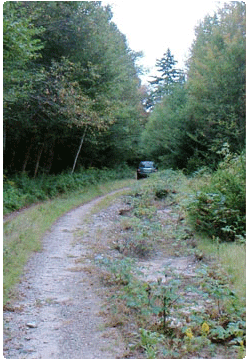 As of May 13, 2022:
All road gates at West Mountain WMA are open for the season.  Gates on Weyerhaeuser timberlands are also open for the season.
Gates associated with the Conte Refuge remain closed with possible opening on May 27, 2022.  These gates include the Stone Dam Road and McConnell Pond Road (VT 105).
Logging and government trucks have the right-of-way at all times, so please do not block any roadways while visiting or parking.  Please drive with caution.
The Hurricane Road gate at Bill Sladyk WMA is open to the public for the season.
Also, please be aware that a culvert is being replaced with a bridge on the Dennis Pond Road at West Mountain WMA. This affects the camp lease holders on the north side of Dennis Pond during the week of May 23-May 27, 2022.  The road will be impassable for a period of three days during that time and the project should be completed by May 27, 2022.
Please continue to check this website for updates.
Background
West Mountain WMA is the largest wildlife management area in Vermont. It is a vast area of bogs and evergreens and is known for its remote character and large moose population.
Since 1999, the Agency of Natural Resources has managed West Mountain WMA for natural resource conservation and public access, and has managed a public access easement on adjacent lands now belonging to the Weyerhaeuser Timber Company. This complex project has involved collaboration with partner organizations including The Nature Conservancy, Vermont Housing and Conservation Board, Vermont Land Trust, and Weyerhaeuser, as well as numerous local and state constituent groups.
See also: