We're a small state packed with fishing fun. With a little guidance and equipment, you'll be creating fishing memories to last a lifetime.
Getting Started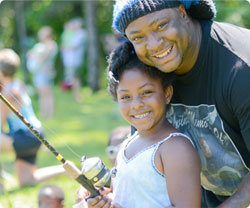 You don't need much to go fishing at a nearby river, pond, or lake. A hook-n-bobber set up complete with a tasty worm will provide lots of fishing action.
For those 15 or over, you'll also need either a short-term or annual Vermont fishing license. Have fun out there, and let us know if you #FishVT with a tag on social media.
STEP 1: Buy A Fishing License (see License Types and Fees here)
STEP 2: Learn how to set up a hook and bobber (with sinker) on fishing line:
STEP 3: Finding worms can be fun and provides good bait. Or just pick some up at your local bait shop.
LAST STEP: Understand Vermont's Fishing Regulations that apply to the area you want to fish, or use the Online Fishing Regulations Tool. Don't have a spot yet? We've got some recommendations for you below.
Where to Fish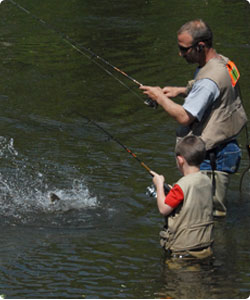 From family-friendly fishing holes to secluded wild trout streams, you don't have to go far to find the right spot for your fishing adventure.
Fishing Events
View the department event calendar and join a local fishing event. Ask questions, learn ecology, enjoy fishing in Vermont with local experts.
Top Spots for Family Fishing
Vermont has family-friendly fishing locations across the state where you have an excellent chance of catching fish using simple techniques, no boat required.
Trout Stocking Report
Whether you're looking to catch a beautiful "Trophy Trout" or cast for brookies in a stocked stream near you, check out the stocking report to see what waters have been stocked.
Fishing Access Areas
Vermont has more than 190 developed fishing access areas, providing public access for shore fishing opportunities and boat launching.
Tips & Skills
More Tips & Skills resources:
VT Fishing Guide (downloadable pdf)
Learn what fish to target as well as where, when and how to enjoy fishing in Vermont.
Fishing Basics
Find basic information about fishing equipment and techniques that will help you make the most of your time on the water.
Vermont's Sportfish
Learn about some of Vermont anglers most popular sportfish, including tips on where and how to fish for them.
License Types and Fees
| License Type | Resident | Non-resdient |
| --- | --- | --- |
| Fishing | $28.00 | $54.00 |
| Youth Fishing (ages 15-17) | $8.00 | $15.00 |
| 1 Day Fishing* | N/A | $21.00 |
| 3 Day Fishing* | $11.00 | $23.00 |
| 7 Day Fishing* | N/A | $31.00 |
* Term Licenses: All dates are inclusive and consecutive
View all license types and fees
Vermont offers no-cost licenses for individuals with disabilities. Learn more...