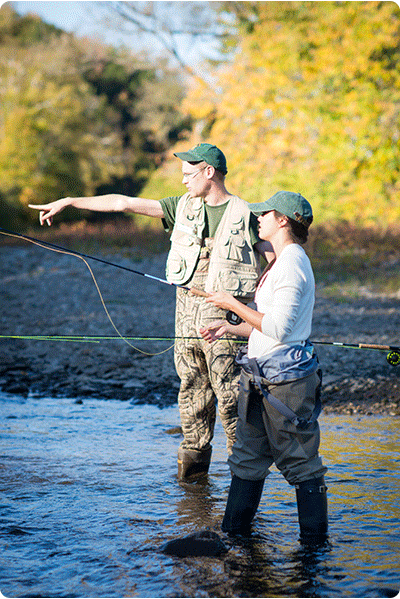 These FREE clinics are open to people of all ages and levels of experience, including those who are completely new to fishing. Face coverings and social distancing are required for unvaccinated individuals. Participants should also dress for the weather.
Introduction to Fishing
Check out this series of introductory fishing clinics. Programs will cover ecology, knot tying, fish identification, regulations, equipment and much more. Participants will leave the program with the skills they need to feel confident fishing on their own. All equipment will be provided.  
Pre-registration is required. Space is limited to 25 and seminars fill up quickly, so sign up early.  
Date: Tuesday, June 15, 2021 -  Wrightsville Reservoir, Montpelier, VT | 6:00pm - 8:00pm
---
Date: Thursday, June 24, 2021 - Ricker Mills (meeting at the dam), Groton, VT  | 6:00pm - 8:00pm
---
Date: Friday, June 25, 2021 - Bullhead Pond, Manchester VT | 6:00pm - 8:00pm
---
Introduction to Fly Fishing
Learn the basics of fly fishing in a fun hands-on environment. Chief Let's Go Fishing Instructor Paul Noel will be covering topics such as tackle, entomology, casting, flies, ecology and so much more! The day will conclude with fly fishing on a pond.
Date: Saturday July 3, 2021 -  Northwoods Stewardship Center, East Charleston | 9:00 am - 1:00 pm