Many of Vermont's existing stream crossings are barriers to movement of fish and wildlife.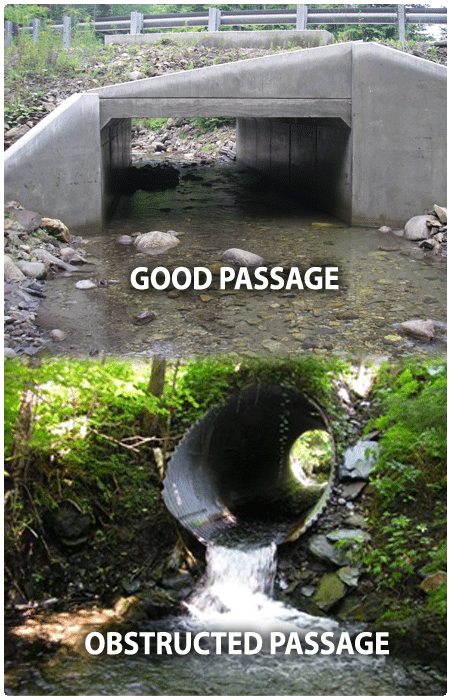 Improving stream crossing design and construction practices insure passage for Vermont's fish and wildlife populations and improve flood resiliency.
For reasons as simple as the need to escape extreme floods or as complex as maintaining genetic diversity, animals living in or along streams need to be able to move unimpeded through the watershed.
Here are several resources on stream crossings and aquatic organism passage that highlight the benefits of well-designed stream crossings and stream continuity.
Stream Crossings, Aquatic Organism Passage and Habitat Connectivity
Stream Crossing Design Guidelines and Resources
Technical Assistance for Stream Crossing Design and Construction
State and Federal Regulations for Stream Crossings and Aquatic Organism Passage
Vermont ANR Culvert Assessment Protocols, Screening Tools and Geomorphic Assessments
Identifying and Implementing Aquatic Organism Passage Enhancement Projects in Vermont
For other questions about aquatic organism passage at stream crossings contact Will Eldridge, Aquatic Habitat Biologist, VFWD (william.eldridge@vermont.gov /(802) 485-7566)
See also: