Conserving Vermont's fauna and flora, requires understanding Vermont's habitats. Natural community research and data build this understanding.
What is a Natural Community?
"A natural community type is an assemblage of plants and animals that repeats across the landscape wherever similar environmental conditions occur. A natural community type is a concept, or a category, not a place. Each type is described by summarizing the known examples of the type, and these types are used to classify the landscape of Vermont. As more is learned over time, the classification continues to evolve."
A natural community is made up of the species that live together in a natural setting, along with their physical environment and the processes that affect them. Vermont has more than 90 different natural communities. So when you spend time outside driving, hiking, hunting, fishing, or exploring, you've observed natural communities.
Protecting a Home – Coarse Filter Conservation
Some species, such as black bears, roam over large areas and use many different natural communities. They feed on oak and beech trees in the fall and eat green vegetation growing in seeps and swamps in the spring. Other species require one or several specific natural communities to survive. For example, some orchids are only found in Rich Fens, and peregrine falcons require certain types of cliffs to nest and raise their young.
The department is currently setting conservation goals for each community. By conserving good examples of each type of natural community, we help plants and animals keep their homes by protecting their habitats. This is called a "coarse filter" approach to conservation.
The coarse filter approach, combined with several other strategies outlined in Vermont Conservation Design will help most or all of Vermont's species to persist into the future.
Significant Natural Communities
There are currently 97 wetland and upland natural community types in Vermont. The department tracks the best-known examples of every natural community type, which are called Significant Natural Communities.
Special attention is directed to the rare community types, such as Subalpine Krummholz – a natural community of wind and ice-stunted trees found only on Vermont's highest peaks. Northern Hardwood Forest is the most common natural community in Vermont. Only a few very special examples are tracked, such as the vast expanse of forest surrounding Camel's Hump.
Other Values of Natural Communities
Climate Change
Species migrate across the landscape over time, and many will move as the climate continues to change. Each natural community type thrives in specific physical settings. Some communities are generalists, like Northern Hardwood Forests, and can exist in a variety of conditions. Other communities, like Rich Fens, require just the right groundwater, topography, and bedrock.
By protecting natural communities now, Vermont' varied bedrock and soil will help support the diversity of life over time, including species that migrate from other regions.
Land Management Planning
Natural communities facilitate on-the-ground management decisions. Land managers and foresters working with landowners can make decisions based on the natural processes that shape each type of natural community. They can also consider how each community type tends to change over time.
Significant natural communities on private property can be managed as "Ecological Significant Treatment Areas" (ESTAs) in the Use Value Appraisal (UVA) Program ("Current Use"). Within the UVA Program, ESTAs give landowners another management option.
Natural communities also help landowners understand how their property fits into the rest of Vermont's landscape, what is special about their land, and what hidden species might be present.
Big Picture Conservation Planning
Vermont's natural community types translate to the national and international classification systems, so community data can also be used regionally, nationally, or internationally for conservation planning.
Natural Communities on Agency of Natural Resources Land
Many of Vermont's intact and rarest examples of natural communities occur in State Forests, State Parks, and Wildlife Management Areas.
Victory Basin Wildlife Management Area has some of the best examples of softwood swamps and bogs in the state.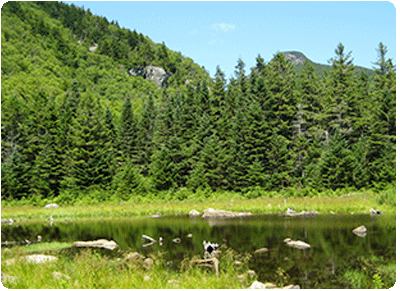 Camel's Hump State Park protects a sizable portion of Vermont's Alpine Meadow community.
Niquette Bay State Park and The Narrows Wildlife Management Area offer homes to natural communities that need warmer conditions and are more common in Southern New England or the Midwest.
Agency of Natural Resources (ANR) staff, including Wildlife Diversity Program staff, have inventoried over two-thirds of the Agency's land. Staff conduct field inventories of each property and develop long-range management plans to maintain or enhance the ecological condition of the property's natural communities, and to set a standard and example for managing and conserving natural communities.
For example, on Forest, Parks, and Recreation land, managers might remove invasive plants from any community. In common and widespread community types like Northern Hardwood Forest, managers might also harvest timber, assuring that timber production maintains or enhances the forest condition.
Natural Communities on Private Land
Many exceptional natural communities occur on private lands. In cooperation with landowners, department staff will visit, inventory, and map significant natural communities. Landowners regularly accompany Fish & Wildlife biologists into the field.
The department also provides technical assistance to help landowners and consulting foresters understand, manage, and conserve significant natural communities. For example, information is available for management recommendations or opportunities for Ecologically Significant Treatment Areas (ESTAs) in the Use Value Appraisal (UVA) Program. ESTAs provides landowners more options for managing their forests or agricultural land in the UVA Program.
Additional Resources
Wetland, Woodland, Wildland: A Guide to the Natural Communities of Vermont.
This second edition of the book describes the nine biophysical regions and the 97 natural community types recognized in Vermont in 2019. It contains practical information for naturalists, teachers, students, landowners, land managers, foresters, conservation planners, and everyone who loves the outdoors and wants to learn more about their surroundings. This 515-page paperback book may be purchased from local bookstores or online.
List of Natural Communities
This table also lists the U.S. National Vegetation Classification (NVC) type that is most similar to each Vermont natural community type. NVC describes vegetation types for the entire country.
Agency of Natural Resources (ANR) Atlas - Natural Community Maps
Anyone can explore or use these data on an interactive, web-based map of Vermont. Find the Fish & Wildlife section of layers and activate the "Significant Natural Communities" and the "Natural Communities on ANR Land" layers.
Learn How to Use the ANR Atlas
VTANR Open Data Site
Discover, explore, and download open data from Vermont Agency of Natural Resources. The Agency also makes GIS layers available through this site. The layer named "Rare, Threatened, and Endangered Species and Significant Natural Communities" shows the currently mapped significant natural communities. The layer "Natural Communities on ANR Land" displays all mapped natural communities in State Forests, State Parks, and Wildlife Management Areas.
Vermont Vernal Pool Atlas (VPAtlas)
VPAtlas is an online, interactive database for browsing real-time data about suspected and confirmed vernal pools using the interactive map or to contribute field data and add pool locations. VPAtlas is a joint effort of the Vermont Center for Ecostudies and Vermont Fish & Wildlife
Vermont's Natural Communities Inventory Reports
Explore our library to learn more about Vermont's natural communities.
Vermont Conservation Design
A landscape-level approach for maintaining and enhancing ecological function in Vermont.
Conserving Vermont's Natural Heritage: A Guide to Community-Based Planning for the Conservation of Vermont's Fish, Wildlife, and Biological Diversity
This manual offers technical guidance for identifying important wildlife and natural heritage resources in your communities or area of interest, and understanding information related to the conservation of those resources.
Vermont's Natural Heritage: Conserving Biological Diversity in the Green Mountain State
A report from the Vermont Biodiversity Project.
Backyard Wildlife Habitat in Vermont
An information-rich guide to attracting and supporting birds, bats, and other wildlife species in your yard.
See also: