The Vermont Natural Heritage Inventory (VNHI) is the most comprehensive source of information on Vermont's plant communities and rare species.
What is VNHI Role in Conservation?
As part of the department's Wildlife Diversity Program, VNHI maintains a spatial database of rare species and natural community observations that is used in conservation and regulatory planning as well as scientific inquiry. VNHI produces a variety of lists and reports on native species and natural community types that occur in the state, including rare, threatened, or endangered (RTE) species.
Natural Heritage Network and NatureServe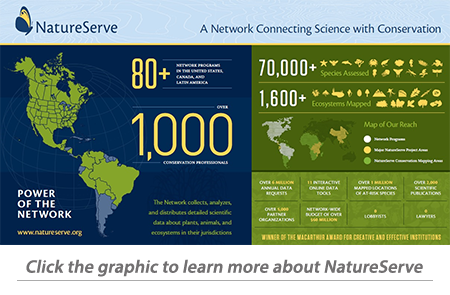 VNHI uses internationally acclaimed NatureServe methodology to document native species and natural communities, and is part of an international network of natural heritage programs and conservation data centers using this common methodology. The department partners with government agencies, nongovernment organizations, contractors, and citizen scientists to gather this information.
Currently there are more than 80 network programs throughout the Western Hemisphere, including all 50 U.S. states. NatureServe links these programs together by managing a centralized database that stores and organizes the inventory data.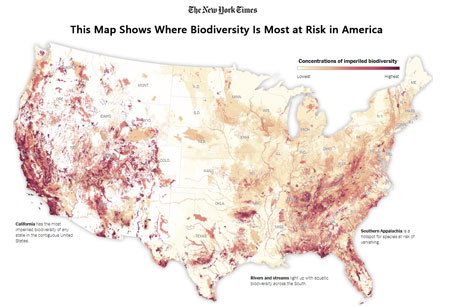 Click map to learn more
NatureServe Explorer has extensive information available on species. Vegetation classification information is found on NatureServe's Ecosystem Classification webpage.
View a Map Showing Where Biodiversity Is Most at Risk in America - The New York Times (nytimes.com)
VNHI History
The VNHI was established in 1984 as part of the Vermont Chapter of The Nature Conservancy. It was transferred to the state in 1987 to better utilize the VNHI's database in conservation and regulatory planning. In 1989 it was combined with the department's Nongame Program to form the Nongame and Natural Heritage Program. In 2012 the combined program was renamed the Wildlife Diversity Program, which includes both VNHI and the broader management component of species.
See also: