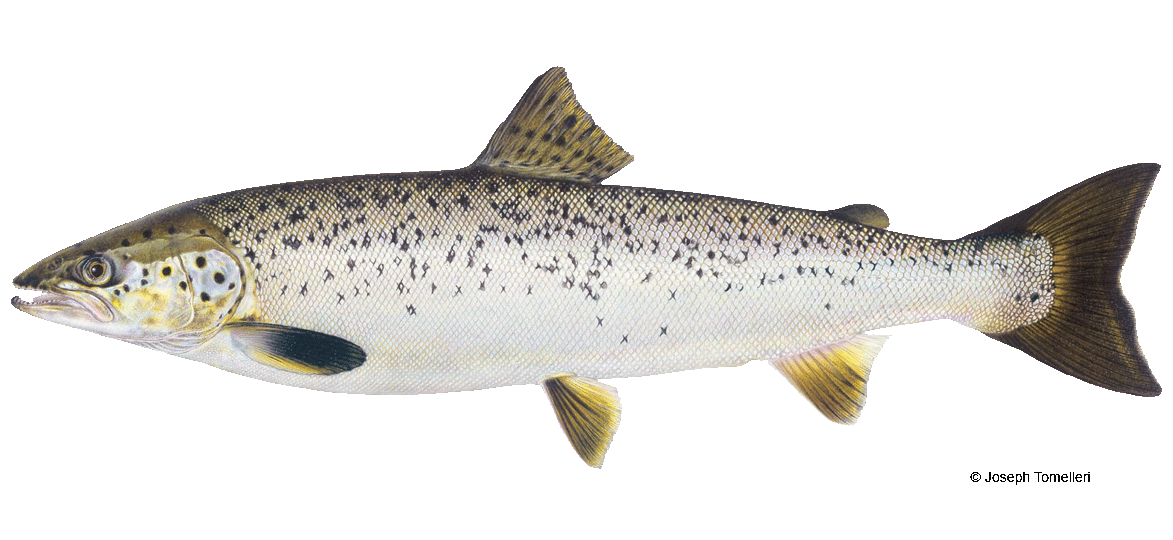 Fun Facts
Species Name: Salmo salar
Common Names: s

ebago salmon, ouananiche, bay salmon, black salmon, caplin-scull salmon, silver salmon, fiddler, lake salmon, saumon atlantique

State Record: 12 lbs. 10.4 oz.Caught in Lake Champlain in 1994 by Brian Latulippe.
Description
The same species as sea-going Atlantic salmon, they have a forked tail, silvery flanks, and black spots on the upper half of their body. Unlike lake-dwelling brown trout, which they can closely resemble, salmon have no spots on their adipose and tail fins.
Where to Fish
Landlocked Atlantic salmon can be found in several of Vermont's cold, clear and well-oxygenated lakes including Lake Dunmore, Lake Champlain and Lake Memphramagog.
Additionally, salmon can be found in the Winooski River and Lewis Creek – both tributaries of Lake Champlain, the Clyde River, a tributary of Lake Memphramagog, and in Sucker Brook, a tributary of Lake Dunmore.
Other salmon fisheries include Lake Willoughby, Seymour Lake and Harriman Reservoir.
How to Fish
While landlocked Atlantic salmon can be targeted year-round with a variety of presentations, trolling and fly fishing methods are generally most popular among anglers.
Commonly-used trolling lures include smelt-imitating stickbaits, spoons and flash baits.
Popular salmon flies, including weighted nymphs and smelt-mimicking streamers, are also used in rivers and lakes alike.
Target salmon in the spring in shallow water around shoals, reefs and shoreline rock outcroppings or points of land, and follow them out to deeper water as waters warm during the summer and salmon remain within their comfort zone of about 55° F.
A depth finder is a key piece of equipment for locating deep water salmon, and downrigger setups and lead core or wire lines are critical for reaching the proper depths while trolling.