Vermont's most reclusive big-game animal is remarkably abundant. Black bears inhabit most of the state, other than the Champlain Islands.
Vermont has one of the densest black bear populations in the country, approximately one bear for every three square miles, most commonly found in the Green Mountains and Northeast Kingdom.
Bear Seasons
Dates
Notes
Early
September 1 through the day before the 16-day November Regular Deer Season
A separate Early Bear Season tag is required to hunt the Early Bear Season.
The limit is one bear per calendar year.
Baiting is prohibited. Hounds are allowed, provided the person in charge of the dogs has a bear-dog permit, no more than six dogs are used, and no commercial guiding occurs. Nonresident hunters, when using hounds, may begin hunting September 15.
Late
The first nine days of the 16-day November Regular Deer Season
Successful bear hunting usually means successfully finding concentrated natural food sources in or near prime bear habitat. Early in the season, preferred foods include late-ripening berries, black cherries, and standing corn. As the season progresses, wild apples, beechnuts, and acorns become more important.
Stalking bears in a stand of nut-rich beech trees half way up a mountain on a crisp October afternoon is one of hunting's most exciting challenges. The reward in terms of harvested meat is also great. When properly prepared, bear meat compares favorably to pork.
Help Collect Important Data
Hunters are required to collect a small pre-molar tooth from each harvested bear. Collecting a bear tooth is now mandated by law.  The collection of a premolar tooth is critical to the bear project as it provides important data for evaluating changes to the age structure of the bear population and for making population estimates.
Avoid Shooting a Bear with Cubs - Tips for Identifying Sows with Cubs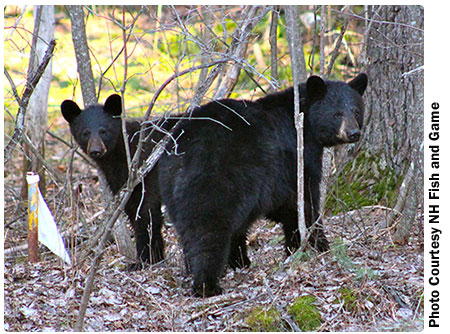 Black bear cubs are dependent on sows until they are approximately 16-18 months old. Cubs are born in January and forage, travel, and rest with their mother during their first fall. It isn't until the following spring that they are ready to strike out on their own. 
It is important that hunters take precautions to avoid harvesting sows accompanied by cubs. Follow these steps to increase the likelihood that you will correctly identify bear family groups:
Be observant. Most adult female bears in Vermont weigh between 120 to 180 lbs. Cub sizes can vary widely by their first fall depending on food availability throughout the year, the fitness of the sow, and the number of cubs in a litter. Larger cubs can weigh over 50 lbs. and may appear almost as large as the sow while smaller cubs can be as little as 20 lbs. Be diligent to observe bears of this size class to determine if they are alone before harvesting.
 
Be patient. Family groups may not always be within sight of each other, but members will be nearby. Take time to observe a bear to determine it is alone before harvesting. Select a shooting location that offers views of the surrounding area to increase the chance of observing potential cubs.
 
When in doubt, don't shoot.
 
Leashed Tracking Dog to Recover Bear
A hunter who believes they have legally killed or wounded a bear during hunting season may engage a person who has a "Leashed Tracking Dog Certificate" issued by the department to track and recover the animal during the season or within 24 hours after the season ends.
Get the List of Leashed Tracking Dog Handlers
See also: