Act No. 159 (S.201). An act relating to best management practices (BPMs) for trapping
Act No. 165 (S.281). An act relating to hunting coyotes with dogs
Best Management Practices for Trapping (Act No. 159)
This act requires the Fish and Wildlife Department to work with the Legislature and the Fish and Wildlife Board to establish rules that implement best management practices that modernize trapping and improve the welfare of wildlife taken with the use of traps. 
Timeline:
June 1, 2022 - The process to establish these best management practices was initiated
August 4 – September 27, 2022 - The department convened a stakeholder working group to identify potential areas of common ground for updated regulations
November 22, 2022 - A first set of draft recommended rule changes became available 
November 29, 2022 - A public meeting to collect feedback was held
January 15, 2023 - A report to the Legislature is due
February or March 2023 - The department will begin the rule making process with the Fish and Wildlife Board. The Board will host another public meeting as part of that process. It is expected that new rules from this process will be finalized and become effective during the 2024 trapping season. No changes to trapping regulations will be made during the 2022/23 season.
If you would like to send us comments at any point in this process, please email us at ANR.FWPublicComment@vermont.gov with the subject line "BMP Trapping Recommendations."
See also:
Hunting Coyotes with Dogs (Act No. 165) 
This act creates a moratorium on hunting coyotes with dogs, effective July 1, 2022, with some exceptions.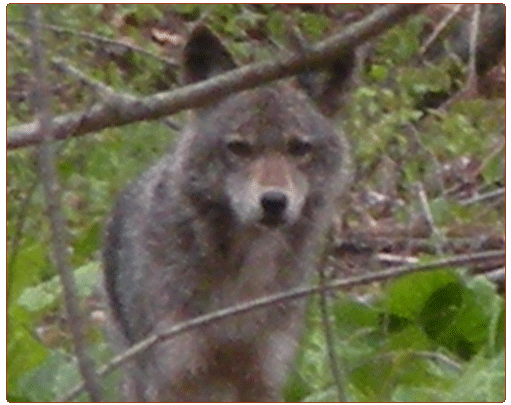 What Has Not Changed Regarding Hunting Coyotes
There is no closed hunting season on coyote.
 
Coyotes may be hunted at any time under natural light. Artificial lights and sighting devices that project a beam of any kind of light are prohibited when shooting at a coyote. 
What Has Changed Regarding Hunting Coyotes
Coyotes may not be pursued with the aid of dogs, nor trained to pursue coyotes, until the Fish and Wildlife Board passes a rule that regulates the hunting method. A draft regulation is being developed.
 
An exception to the current moratorium: Hunters may pursue and take coyotes with the aid of dogs if they are on their own property and acting in defense of a person or property, or if they have signed permission from a landowner who has a legitimate defense of persons or property concern.  
Timeline:
October 2022 - A stakeholder group was established and surveyed for on their regulation preferences to inform the development of a draft rule.
January 10, 2023 - the stakeholder group meeting to provide comment on the draft rule, prior to the draft being finalized for the Fish & Wildlife Board's consideration.
Winter or Spring 2023 - The department will begin the rule making process with the Fish and Wildlife Board  
See also: