A plan to conserve all Vermont's wildlife and the habitats they depend on.
As a wildlife conservation guide for the entire state—not just the Fish & Wildlife Department—the Wildlife Action Plan includes strategies that almost any individual or organization can implement. The most common strategies proposed here to alleviate problems impacting Species of Greatest Conservation Need also aren't new: they include habitat restoration; the provision of education and technical assistance to landowner and land managers; providing financial and economic incentives and encouraging wildlife-compatible resource use.
The Action Plan's recommendations underscore the need for proactive, cost-effective conservation efforts and increased collaboration, coordination and sharing of data and expertise among all those interested in wildlife conservation.
Read the Wildlife Action Plan
The Action Plan is available as a single document and in separate chapters through the links below (all files in PDF format unless otherwise noted).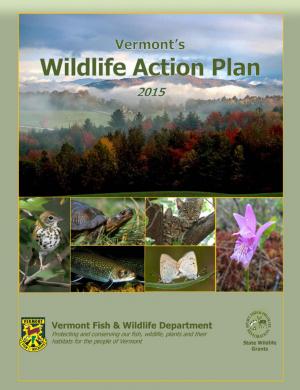 Click to open full Wildlife Action Plan
Wildlife Action Plan (complete report - 42MB)
​See also: