On this page:
2023 New Federally Endangered Species Designation
The northern long-eared bat (NLEB) was reclassified from federal threatened to endangered status by the U.S. Fish and Wildlife Service in 2022, with the new level of protection coming into effect March 31, 2023.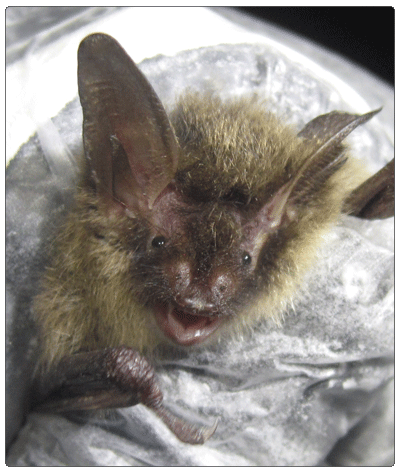 The reason for this reclassification is the northern long-eared bat's population has been severely impacted by white-nose syndrome, a fungal disease that kills bats in the caves and mines where they overwinter. In Vermont, overwintering northern long-eared bats have seen 98% population declines since white-nose syndrome reached our state. The new federal endangered classification will provide protections and resources for the recovery of this species across its range.
Why should I care about the northern-long eared bat and how can I help? 
Northern long-eared bats eat insects that can be pests in our forests and agricultural areas. One northern long-eared bats can eat half its weight in insects each night during the summer! northern long-eared bats also depend on standing cavity trees, or "snags," for summer habitat.
Snags are also valuable to other species, so conserving NLEB habitat will benefit many species. Landowners who want to help can work with their forester on a management approach that leaves snags standing and helps create high quality habitat.
Will the reclassification bring big changes that impact Vermonters? 
We already track northern long-eared bats and other bat populations with acoustic surveys, protect the known caves where northern long-eared bats overwinter, and promote forest management that creates and maintains good habitat for northern long-eared bats and other species. Because the Vermont Fish & Wildlife Department and partners such as the Vermont Department of Forests, Parks, and Recreation (FPR), The Nature Conservancy, Vermont Agency of Transportation, Green Mountain National Forest, and private landowners have been proactive about protecting our northern long-eared bats population, the reclassification is expected to have minor impacts on Vermonters.
Where can I get questions about the NLEB or the reclassification answered? 
2022 New State Endangered and Threatened Species List Designations 
Seven species and three habitats recently received updated designations on the state's Endangered and Threatened Species List.
The two species delisted, five newly listed or up-listed species, and three newly designated critical habitats reflect both the successes and challenges ahead for Vermont's plants, fish, wildlife, and their habitats.
Delistings
A previously threatened or endangered species is delisted when it has met recovery criteria indicating a stable, self-sustaining population.
Canada Black Snakeroot (Sanicula canadensis L. var. canadensis) is a biennial member of the carrot family that favors a moderately moist (mesic), usually enriched, deciduous forest habitat. Recent surveys indicate up to 14 populations occur at least partially on protected conservation land. It attains its greatest abundance in the low hills of the Champlain Valley. This species is sufficiently abundant, not at risk, and has been delisted.
 
Bald Eagles (Haliaeetus leucocephalus) have experienced significant and steady population growth since 2006. Surveys indicate the Bald Eagle has met the criteria for delisting outlined in the Vermont Bald Eagle Recovery Plan, both in Vermont and in the recovery area, which includes portions of New Hampshire and New York. In 2020, 64 fledgling eagles were found in Vermont and more than 75 were found in the recovery region. Monitoring of Vermont's Bald Eagle population will continue following delisting.
New Listings
A species that is at risk of becoming locally extinct in Vermont is designated as endangered and a species that is at risk of becoming endangered without timely intervention is designated as threatened.
Rue Anemone (Thalictrum thalictroides L.) listed as endangered. This flowering plant is a perennial member of the buttercup family. In Vermont the habitat is south facing, warm, dry, rocky woods on calcareous bedrock. There are two populations in Vermont and fewer than 100 reproducing individuals. It meets a secondary criterion of being in danger of exploitation or threatened with disturbance. 

Houghton's Sedge (Carex houghtoniana) listed as endangered. This plant has only a single known location in Vermont. In Vermont this small-tufted, grass-like perennial's habitat is dry sandy soils, typically in openings, forest edges, or disturbed areas.
 

American Bumble Bee (Bombus pensylvanicus) listed as endangered. This grassland species that nests above ground has not been documented since 2000 despite extensive bee surveys in Vermont. Drastic declines have been documented in portions of its range and a significant and steady decline in the population has been observed in Vermont since the 1980s. Three other bumble bee species are currently listed. There are 17 different species of bumble bees in Vermont.
 
Eastern Meadowlark (Sturnella magna) listed as threatened. Estimates of populations declines for the Eastern Meadowlark are based on data from the North American Breeding Bird Survey and Vermont's Breeding Bird Atlas. The former suggests a 95 percent population decline over the last 40 years, the later shows a 55percent decrease in distribution over the last 25 years. The primary threats to the species in Vermont are loss of agricultural habitat and increased management intensity on the remaining grass-based hay and pastureland.
Changed Listing Status
A species that was previously threatened and has continued to see population declines can be "up-listed" to the endangered designation. A species that was previously endangered and has seen some, but not all, recovery goals met can be "down-listed" to the threatened designation.
Brook Floater (Alasmidonta varicose) status changed from threatened to endangered. Surveys indicate this freshwater mussel has experienced a severe population decline in Vermont. This species is only known to occur in a single river in Vermont, where it resides in clear, free-flowing waters of moderate velocity, typically within a mixture of sand and gravel. The Brook Floater is one of the most endangered freshwater mussels in northeastern North America. This species is not abundant in streams anywhere it occurs, with populations often being fragmented and isolated from one another. Declining populations have been reported in at least 12 of the 16 states where it occurs.
Designating Critical Habitat
Landscapes or locations that are essential to populations of endangered or threatened species can be listed as critical habitat.



Nesting Common Tern with chicks - photo credit - USFWS

Designate three small, rocky state-endangered Common Tern (Sterna hirundo) nesting islands in Lake Champlain as critical habitat. Common Terns were listed as endangered in Vermont in 1989 due to declining population levels and low reproductive success. Since then breeding numbers have rebounded due in part to the annual availability of these islands for nesting.

These islands are comprised of a mosaic of gravel, bare rock, grasses, forbs and woody vegetation including trees. Common Terns are a colonial nesting species that nest on the ground and use the gravel and rock substrate on these islands to nest. Common Tern nesting areas on all three islands lie above the annual high-water mark for Lake Champlain. Common Terns have been documented nesting islands in Lake Champlain since the late 1800s. Green Mountain Audubon owns the islands and supports designation as critical habitat.
 




New England's largest hiburnaculum

Designate one Southern Vermont hibernaculum (cave) as critical habitat for several bat species. This site has been recognized as a bat hibernaculum since the mid-1900s. It is the largest hibernaculum in New England, attracting thousands of bats from all over the Northeast. It contains listed bats and has a large number of listed Little Brown Bats. The designation includes a 115-meter or about 125-yard radius critical habitat area around the cave entrance that overlays the underground portions of the cave system. The cave is owned by The Nature Conservancy and they support the designation.
 

Designate four state-threatened Spiny Softshell Turtle (Apalone spinifera) nesting beaches as critical habitat. These four Lake Champlain nesting beaches are managed by the Vermont Fish & Wildlife Department and were selected based on multiple years of monitoring and each site supporting on average, at least five Spiny Softshell nests annually.





Four Lake Champlain beaches sites collectively account for a large proportion of all Spiny Softshell nesting activity in Vermont.

The four sites collectively account for a large proportion of all Spiny Softshell nesting activity in Vermont. Three beaches are state-owned, the fourth is privately owned, and the designation has landowner support.
How to Help
A donation to the Nongame Wildlife Fund helps recovery efforts for these at-risk species. Your donation will fund population monitoring, conservation planning, habitat restoration, and public education efforts. Every dollar you give is matched with 2-3 dollars from the US Fish & Wildlife Service. Together, we've brought back the common loon, peregrine falcon, osprey, and now the bald eagle. With your support, we will continue to conserve Vermont's most vulnerable wildlife populations.
See also:
---
*Canada Black Snakeroot photo credit: Brucewinter - Own work, CC BY-SA 4.0, https://commons.wikimedia.org/w/index.php?curid=79804280