The Vermont Fish & Wildlife Department is studying how the construction and operation of wind turbines in the Green Mountain National Forest affects local bears.  The study, known as the Deerfield Wind Black Bear Study, is a long-term study designed to better understand how wind energy development within critical bear habitat affects bear use of that habitat and the surrounding landscape.
What is the Deerfield Wind Black Bear Study?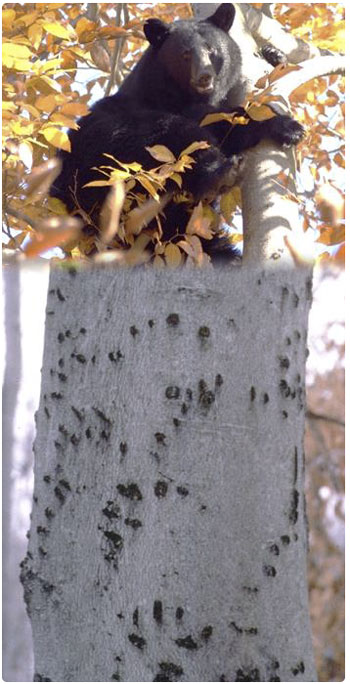 The Deerfield Wind Energy Project is a wind facility in the Manchester District of the Green Mountain National Forest. It was built across two ridgelines in the towns of Searsburg and Readsboro and it went into operation in late 2017.
Critical Bear Habitat
The turbines were built within some of the largest concentrations of bear scarred beech remaining in southern Vermont. Beech trees produce a nut, called the beech nut, that provides an important food source for black bears as they prepare to enter their winter dens and when they first emerge in the early spring.
For reasons not fully understood, bears will climb certain beech trees to feed on the nuts directly out of the tree. As bears climb up and down these trees their claws scar the beech tree's thin bark. Beech nuts are such an important food for bears the Vermont Fish and Wildlife Department considers concentrations of bear scarred beech trees critical habitat for bears.
Tell me more about beech trees and bears!
The beech nut is an important food source for black bears and many other animals that call Vermont home. American marten, fisher, deer, turkey, ruffed grouse along with many small mammals and passerine birds feed on beech nuts. This is because, despite the nut's small size, it is packed full of fat and protein. Beech nuts become ripe in the fall just when many animals are building up fat reserves for the lean winter.
Beech trees typically produce nuts every other year. Similarly, a female black bear gives birth to cubs every other year. Her cubs are born in the winter while she is snug in her den. They will stay with her for 15-18 months before striking out on their own. Research has shown that in areas where beech nuts are a major food source most of the female bears give birth in the winter after a good beech nut crop.
What questions is this study trying to answer?
Does the construction and/or operation of the Deerfield Wind Energy Project change how bears use the beech concentrations and other habitats surrounding the facility?
If bears use the beech concentrations less in response to Deerfield Wind Energy Project, where do they go to find alternative foods?

Do they find beechnuts somewhere else or do they find a different food source?
There are two ways we are trying to answer these questions:
Bears are wearing GPS satellite collars that record their movements. Beginning in 2012, 8-14 bears were fit with collars each year. These collars are programmed to record the bear's location periodically throughout the day and night as it goes about living its life.
Researchers will compare locations and movements before Deerfield Wind to locations and movements collected during construction and operation of the wind facility. These comparisons will show if bears have changed how they use the beech concentrations in response to Deerfield Wind.
Remote wildlife cameras take pictures of bears near the Deerfield Wind Energy Project. Beginning in 2015 40 remote wildlife cameras were set in strategic locations to capture pictures of bears.
Comparing pictures taken before Deerfield Wind with those taken during construction and operation of the wind facility will help determine if bears changed their activity and possibly their behaviors in response to Deerfield Wind.
When will we have answers?
Data collection is scheduled to wrap up in 2020. Researchers will analyze the data throughout 2020 and into 2021. The results will be described in a report and shared with Vermonters.
Who is conducting this study?
The Vermont Fish and Wildlife Department is responsible for the design, data collection and analysis of this study. However, a study of this size requires teamwork and several other organizations and groups have helped along the way.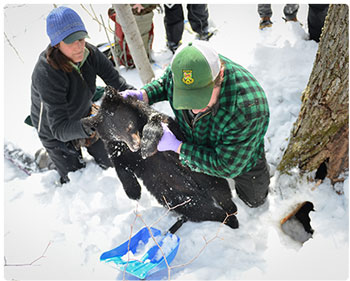 Western EcoSystems Technology, Inc. assisted with designing the study and data collection during the early years.
U.S. Forest Service staff have been instrumental in assisting with collecting data and accessing remote corners of the study area. In addition, USDA Wildlife Services and students from the University of Vermont's Rubenstein School also played key roles in assisting with data collection.
Local hound hunters spent countless hours assisting with safely capturing bears for the study. Many local residents graciously allowed access to their lands, shared helpful information and offered their support for this study.
Plus, we want to thank the local bear hunters who avoided harvesting bears with yellow ear tags or collars during the regulated bear hunting season while the data collection phase of the study was underway. With the conclusion of the data collection, we are no longer asking hunters to refrain from harvesting these bears.
Interview with lead biologist for the Deerfield Wind Bear Study
Hear from the lead biologist for the study as she and her crew visit a bear den to check on one of the collared bears.
Who is paying for this study?
This study is completely funded by Avangrid (owner and operator of the Deerfield Wind Energy Project). The money for this study is part of the permit agreement established by the Vermont Public Service Board. Along with funding a study to evaluate the impacts of the wind facility on black bears the Vermont Public Service Board also required Avangrid to provide money to conserve critical habitat for bears in southern Vermont.
Who should I contact for more information?
To learn more, please email fwinformation@vermont.gov
See Also: