Vermont's approximately 260 species of birds occupy habitats from the islands and shores of Lake Champlain to the top of Mount Mansfield.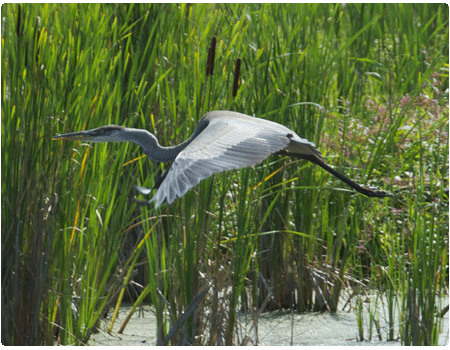 The Vermont Natural Heritage Database holds taxonomic and status information on all bird species regularly occurring in Vermont. Site-specific survey and monitoring data on 88 species that are rare or otherwise at risk is also in the database.
Partners in Bird Conservation
The department partners with other organizations in bird conservation efforts.
Missisquoi National Wildlife Refuge (MNWF)
MNWF is the only known nesting site for the state-endangered black tern, and refuge staff monitor the historic nesting sites and conduct annual pair counts. The refuge, itself, is an Important Bird Area and together with department-owned lands has been designated a Wetland of International Importance.
Its mosaic of wetland habitats offer opportunities to see and manage more than 200 bird species. Nesting bald eagles, osprey, and a great blue heron colony numbering more than 300 nests are present on the refuge. During the fall migration, 20,000-25,000 migrating ducks use this important wetland habitat.
Learn More About Missisquoi National Wildlife Refuge
Audubon Vermont
Audubon Vermont assists the department with monitoring and surveying peregrine falcons, bald eagles golden-winged warblers, common terns and certain grassland birds.
Learn More About Audubon Vermont
Vermont Center for Ecostudies (VCE)
VCE partners with the department in monitoring and surveying common loons and whip-poor-wills.
Learn More About Vermont Center for Ecostudies
Additional Resources
See also: