Ongoing monitoring of nesting success helps determine trends or fluctuations in numbers and offers a better understanding of what management and conservation efforts are needed. Below are the survey results of several bird species the department is currently monitoring to ensure these species are here for all Vermonters to enjoy now and into the future.
Common Loon
Common Loon was designated as endangered in VT in 1978, and removed from the list in 2005. The statewide population has steadily rebounded from a low of 8 nesting pairs in 1983 and 1984, to 101 nesting pairs and 87 chicks in 2019. Sustained management and monitoring has continued due to the Vermont Loon Conservation Project—a partnership with Vermont Center for Ecostudies and the Vermont Fish & Wildlife Department.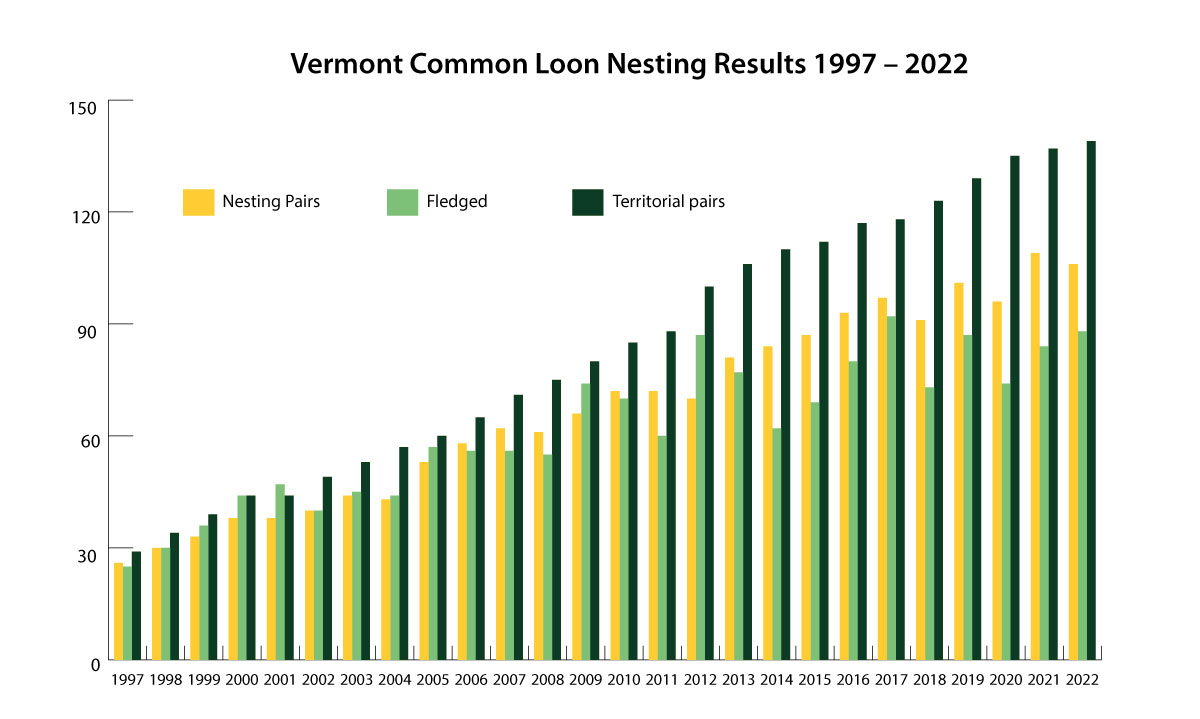 click to enlarge image
See also:
Vermont Common Loon Recovery Plan
Vermont Common Loon Life History
Vermont Loon Conservation Project
Peregrine Falcon
Officially designated as endangered in VT in 1972, statewide population has steadily recovered and surpassed recovery goals. Increases due in large part to concerted monitoring and management efforts. Vermont's population reached a new post-DDT record high of at least 56 pairs in 2019, with 2 new territories discovered. Audubon Vermont continues to monitor nesting success at known sites with the aid of volunteers, follows up on leads of new nests, and coordinates trail closures with state parks, recreation groups, and private landowners.
click to enlarge image
See also:
Vermont Peregrine Falcon Recovery Plan
Vermont Peregrine Falcon Life History
Bald Eagle
State listed as endangered. Removed from the federal list of endangered and threatened species in 2007. Vermont population has seen a steady increase since the first pair nested successfully in 2008. Breeds in all adjacent states and Quebec. Currently the bald eagle status in Vermont is under review for down-listing from endangered to threatened. Increases in bald eagle populations are a result of several factors, including the banning of DDT in North America, an effective reintroduction program, and the protection of bald eagle breeding and wintering habitat through the Endangered Species Act. Vermont Fish & Wildlife conducted its own reintroduction program from 2004-2006, releasing 29 eagles in the Champlain Valley.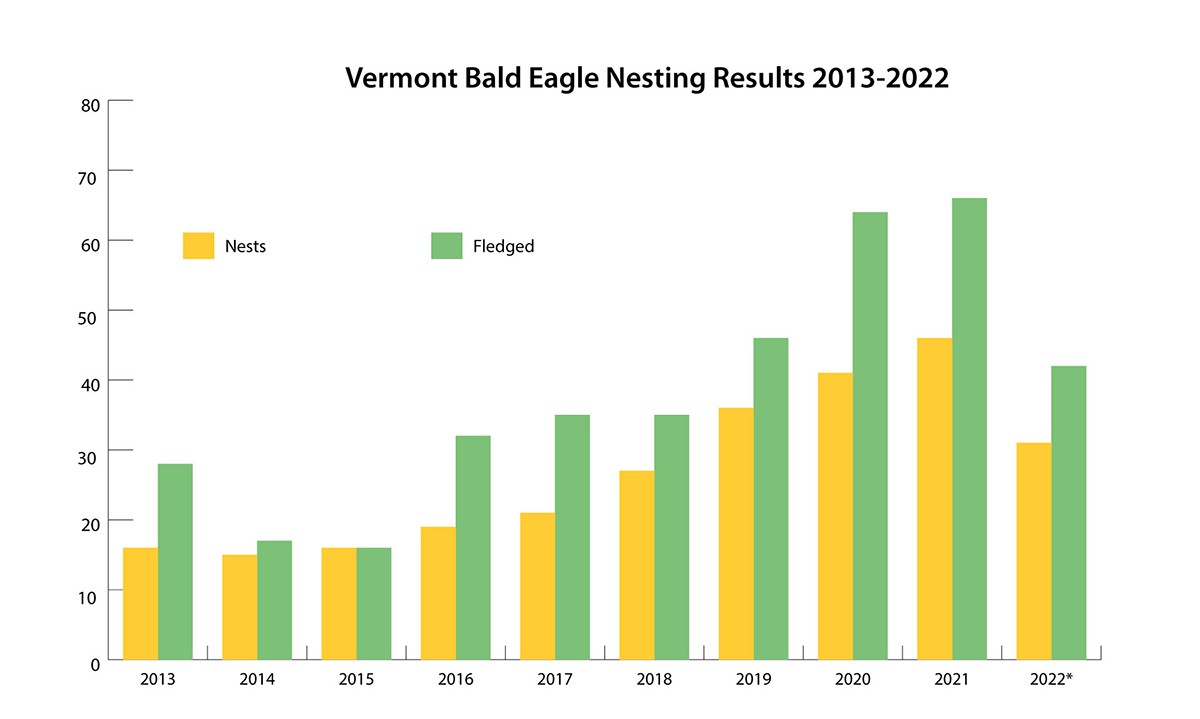 click to enlarge image
See also:
Vermont Bald Eagle Recovery Plan
Common Tern
VT state endangered since 1988. Common Tern populations in Vermont declined during the 1970s and 80s from about 300-400 breeding pairs to approximately 50 breeding pairs in 1988. Since then numbers have increased steadily due to monitoring and management efforts and protection of nesting islands.
Breeding numbers have recently exceeded the levels recommended for down-listing to threatened in Vermont but continuing low productivity has prevented down-listing. Monitoring and management efforts need to continue to avoid a population decline in the future.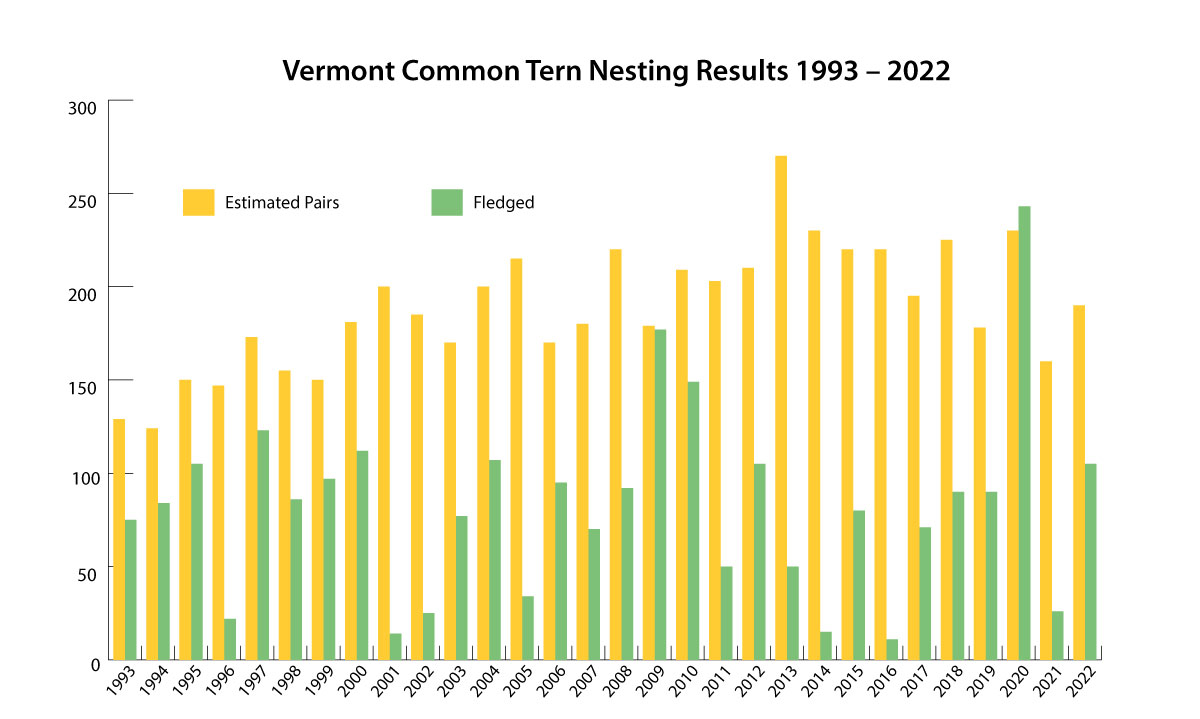 click to enlarge image
See also:
Black Tern
Listed as endangered in Vermont. Black Tern populations have remained low and fluctuated during the past decade with a high count of 166 breeding pairs in 2017 and a low of 53 pairs in 2001. Missisquoi National Wildlife Refuge remains the only nesting location for Black Tern in Vermont. They are, however, found in six separate locations within the 6000+ acre refuge.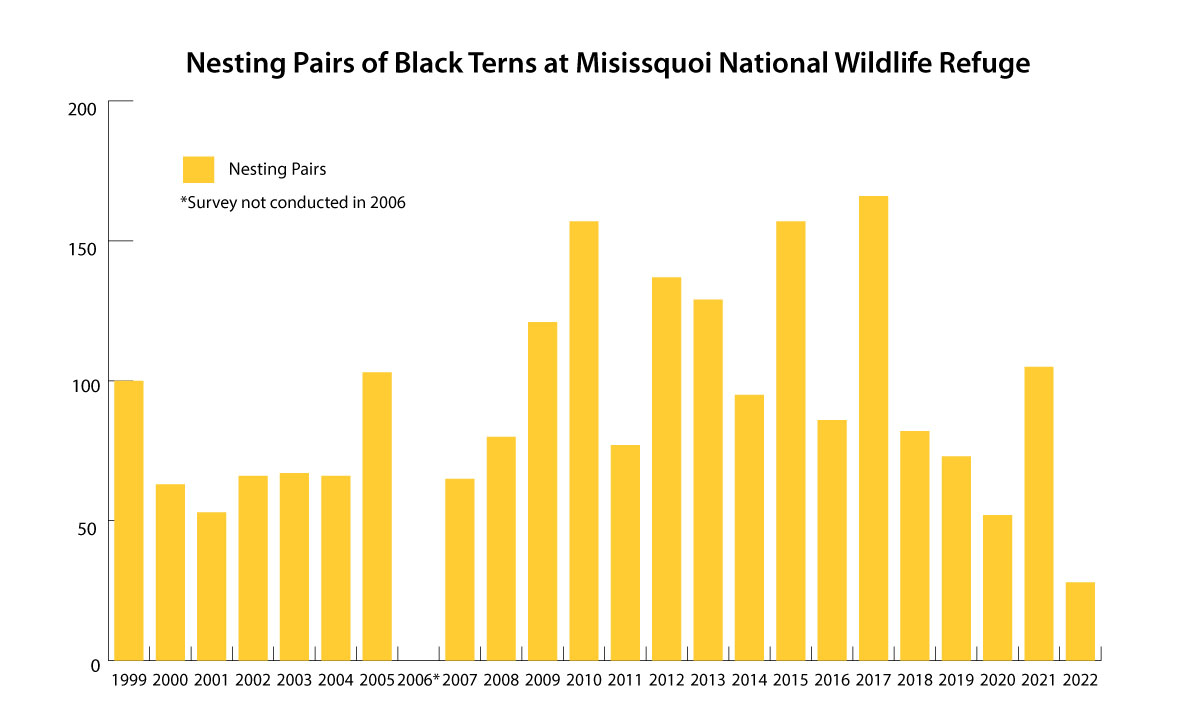 click to enlarge image
See also: