Reciprocal fishing licenses enhance fishing opportunities on Lake Champlain and the Connecticut River.
Lake Champlain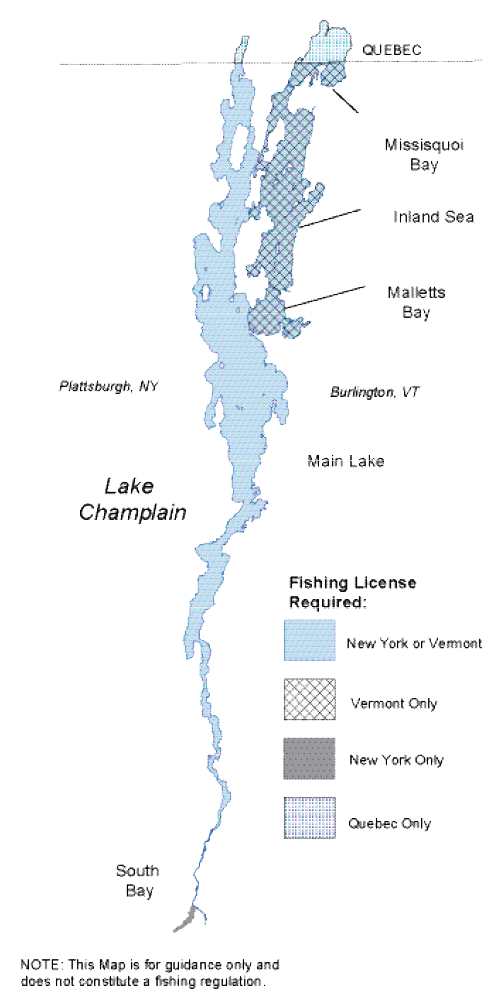 Anglers who hold a fishing license from either New York or Vermont are able to fish in most of the big lake.
New York License Holders
Anglers holding a New York fishing license may take fish from the Vermont portion of Lake Champlain as far east as a line starting on the north shore of the Poultney River where it empties into East Bay, proceeding generally northerly along the shore to the old Rutland Railroad fill on Colchester Point, then following the western side of the old Rutland Railroad fill to Allen Point on Grand Isle, continuing northerly following the western shore of Grand Isle to Tromp Point, then across The Gut to Bow and Arrow Point, then continuing generally northerly along the western shore of North Hero to Pelots Point, then across the Alburg passage to the Point of the Tongue, and then along the western shore of the Alburg peninsula to the United States Border with Canada. When this line crosses a tributary to Lake Champlain, the line shall proceed from the downstream most point of land on one side of the tributary to the downstream most point of land on the other side of the tributary.
Vermont License Holders
Anglers with a Vermont fishing license may fish Lake Champlain west of the Vermont/New York border to the New York shore, but may not fish in South Bay or New York tributaries to Lake Champlain.
State Regulations
Some fishing season dates, length limits and daily creel limits are different in New York and Vermont. When fishing in Vermont, anglers must observe Vermont laws. See Vermont Guide to Fishing Laws
When fishing in New York, anglers must follow the laws that apply in New York. Be sure to obtain copies of state's fishing regulations if you are going to fish Lake Champlain.

There is no reciprocity between Vermont and either Massachusetts or Quebec, Canada.
Connecticut River
All New Hampshire resident and Vermont resident fishing licenses are valid for taking of fish from the Connecticut River for that portion of the river between New Hampshire and Vermont including the bays, set backs and tributaries, only to the first highway bridge crossing the tributaries on the Vermont and New Hampshire sides.
All other nonresidents with a N.H. nonresident fishing license shall only take fish east of the Vermont low water mark while on the Connecticut River.
Regulations
General Fishing Regulations for the Connecticut River can be found in Table 3 of the Vermont Guide to Fishing Laws