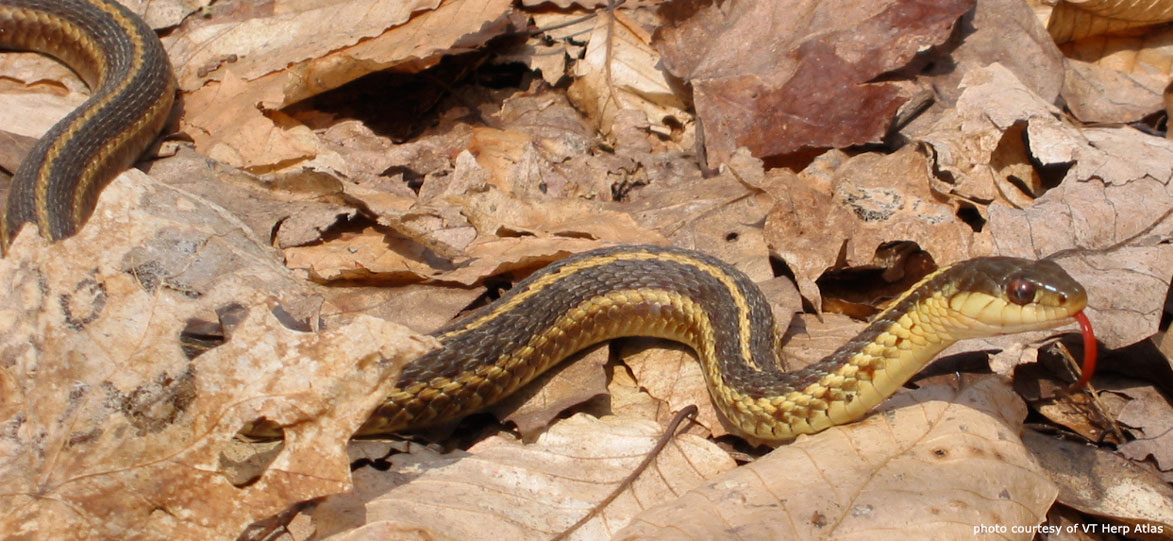 Common garter snakes (Thamnophis sirtalis) are active mainly during the day and are active through a wider range of temperatures than most snakes. They hibernate from late October through March or early April, but can be found basking on rocks during mild winter days. Common garter snakes hibernate in natural cavities or burrows, such as rodent burrows, crayfish burrows, under rock piles, or in stumps.
Habitat
The Common Garternsake is widespread at all elevations statewide in appropriate habitat. Those habitats vary widely, although it is often near water.
Reproduction
These snakes begin mating in the spring as soon as they emerge from hibernation. The males leave the den first and wait for the females to exit. Once the females leave the den the males surround them. The males give off pheromones that attract the females.
After the female has chosen her mate and mated, she returns to her summer habitat to feed and to find a proper birth place. However, the males stay to re-mate with other available females. The females have the ability to store the male's sperm until it is needed and thus a female may not mate if she does not find a proper partner.
Common garter snakes are ovoviviparous (bearing live young). The young are incubated in the lower abdomen, about half way down from the snake's body. Gestation is usually two to three months. Most litters range from 10 to 40 young and litter size depends on the size of the female, with larger females giving birth to larger litters. Upon birth, baby garter snakes are independent and must find food on their own.
Common garter snakes become sexually mature at 1.5 years (males) or two years (females).
Diet
Common garter snakes typically eat earthworms, amphibians, leeches, slugs, snails, insects, crayfish, small fish and other snakes. They seem immune to the toxic skin secretions of toads and can eat them without harm. Occasionally small mammals, lizards, or baby birds are eaten as well.
Common garter snakes find their prey using their excellent sense of smell and their vision. They use several different hunting methods, such as peering, craning, and ambushing to capture their prey. The different techniques describe the way the snakes move while they hunt.
They immobilize their prey using their sharp teeth and quick reflexes. The saliva of common garter snakes may be slightly toxic to some of their small prey, making it easier to handle them while they are being eaten. Like other snakes, they swallow their food whole.
Management
Due to its ability to live a variety of ecosystems, common garter snakes are not directly managed.
It is by far the most common snake in the state.
: