Fisheries biologists are committed to conserving and restoring aquatic habitat, managing for healthy wild fish populations, and providing fishing opportunities.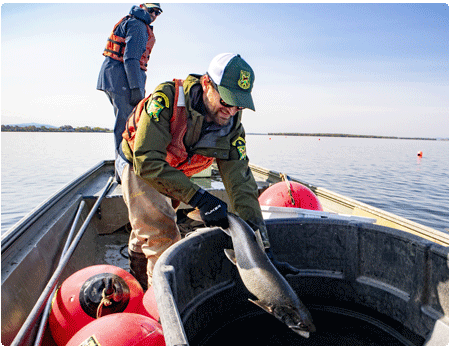 Check out the links below to learn more about managing Vermont's fisheries resource.
Habitat is key for healthy fish populations. Learn about our efforts to protect and enhance Vermont's aquatic habitats.
Vermont's wild trout management focuses on protecting and enhancing water quality and aquatic habitats.
Videos and written reports on our efforts to monitor Vermont's populations of fish species and their habitats.
This survey asked a random group of resident and-nonresident anglers questions related to their experiences and opinions about fishing in Vermont.
This program is responsible for preventing and managing serious fish diseases to help protect wild fish populations and fish reared at fish culture stations.
The introduction and spread of aquatic invasive species (AIS) is one of the biggest threats that Vermont's lakes, ponds, rivers and streams face today.
Sea lamprey control is a vital tool in restoring and enhancing important fisheries in Lake Champlain. Department biologists are working cooperatively with New York State Department of Environmental Conservation and U. S. Fish & Wildlife Service to control sea lamprey.