Casting rods include baitcasters and spincasters. The primary difference between the two is the type of reel used.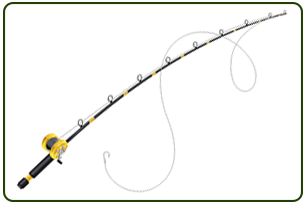 Baitcasting Rods
Available in various lengths, weights and actions, baitcasting rods are designed to accept a bait-casting reel on the top side of the rod. Line guides are also mounted on the top of the rod in order to line up with the reel.
Commonly made of graphite or fiberglass, baitcasting rods normally come in one-piece models, though two-piece telescoping rods can be purchased. Bait-casting rods, which are typically made in weights (or powers) ranging from light to heavy and actions ranging from slow to fast, can be used to target fish species of varying sizes.
When to use: Though lighter-action versions are sometimes used by anglers targeting panfish and yellow perch, baitcasting rods are used much more frequently by anglers using larger lures and bait rigs to target bigger fish species such as northern pike, bass, salmon, lake-dwelling trout and walleye.
Key Terms
Rod Weight / Power: The "power" or "weight" of a fishing rod refers to how much force or weight it takes to bend the rod. Different rod powers or weights are designed handle specific ranges of lure weights and line sizes.
To determine which rod power or weight will be best for you, consider what lure weights and line sizes you will be using with the rod most often, as well as the general size of the fish species you'll be targeting.
Rod Action: The "action" of a fishing rod is determined by where the flex occurs along the rod. For example, faster action rods tend to flex more near the tip while moderate or slower action rods tend to flex more into the middle and lower sections of the fishing rod.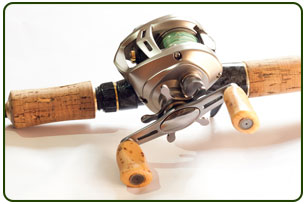 Baitcasting Reels
Typically made of aluminum, stainless steel or composite materials, baitcasting reels are designed to sit on top of a casting rod. Baitcasting reels come in various sizes to fit the needs of different anglers and to hold varying amounts of line.
The reels are available in several gear ratios, which impact the amount of line retrieved with a turn of the reel handle. Baitcasting reels also feature other components such as ball bearings, line drag adjustment knobs, spools, spool control mechanisms and thumb triggers of diverse types and qualities. Made in both left and right-hand models to fit different anglers, baitcasters are generally known for their ability to handle larger lures and tackle larger, more powerful sportfish.
Spincast Reels
Typically made of aluminum, stainless steel or composite materials, spincast reels traditionally sit on top of a casting rod and feature simple designs that accommodate lures of lighter weights and also help to prevent "backlashes" in fishing line.
Spincast reels typically feature a "push-button" mechanism that releases the fishing line during a cast, and can generally be identified by a tapering, cone-like cover which protects an internal spool of fishing line.
When to use: Though their smaller spool sizes make them less advantageous for long casts or deeper water fishing, spincast reels are well-known for their ease of use and are popular among beginning anglers. As with other types of reels, spincast reels are made in both left and right-hand models to fit different anglers.
Key Terms
Gear Ratio: Reel gear ratios – such as 6.3:1 or 5.2:1 – describe the number of rotations a reel spool will make with one complete turn of the fishing reel handle. For example, a 6.3:1 ratio means that the reel's spool will rotate 6.3 times with each turn of the reel handle. Some fishing applications may require a high-speed reel that picks up more fishing line with each turn of the handle, while other applications may be better accommodated by a slower-speed reel that allows for a slow, methodical retrieve, or greater cranking power.
Drag: Fishing reel drag systems are braking mechanisms designed to apply resistance to the reel's line spool or drive components. These adjustable, mechanical systems help anglers to keep adequate pressure on a fish after it is hooked, without breaking the fishing line. Quality drag systems on various types of reels will allow the fishing line to slowly discharge from the reel at a smooth, steady rate. Combined with fishing rod length, action, and power, properly adjusted reel drag systems enable anglers to successfully tackle and land fish species of varying types and sizes.
Line Capacity: A fishing reel's line capacity simply refers to the amount of fishing line, of a given size or diameter, that a reel can adequately hold. Fishing reels generally come with a chart or table that explains the expected capacity of fishing lines of different "pound tests", or sizes. Therefore, line capacity is a key factor for anglers when considering which reel they should purchase or use dependent on the type of fishing they will be doing and the species of fish they will be pursuing.
See Also: