When boating, fishing or recreating on Vermont waterways, you can help protect the health of aquatic ecosystems by taking these simple precautions.
CLEAN and remove all visible aquatic plants, zebra mussels, mud and other debris from boats, other watercraft, trailers, and all water-related equipment before leaving the waterbody or shore. Discard removed material in a trash receptacle or on high, dry ground where there is no danger of them washing into any waterbody.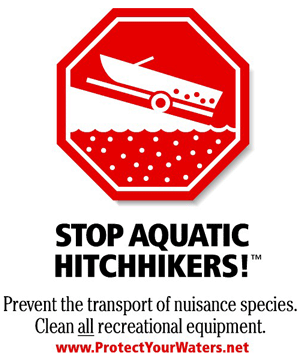 DRAIN bilges, livewells, wet wells, bait containers, and boat motors before leaving the waterbody. Drain motors by lowering it down and briefly starting the engine (1-2 seconds), which will purge water from the system. Always keep drain plugs out and water-draining devices open while transporting watercraft.
DRY your boat and gear. Aquatic invasive species need moisture to survive. Keep quick-dry towels on hand and wipe your equipment to remove residual water. Wash and dry these towels before reusing on another waterbody.
DISPOSE of unwanted live bait, including minnows, leeches and worms, in the trash.
AT HOME further cleaning and disinfection is recommended.
Spraying your gear with high-pressure water or rinsing it with hot water (120°F for at least 2 minutes or 140°F for at least 10 seconds) will kill most aquatic invasive species. Or let gear dry for at least 5 days before using on another waterbody is also effective.
See also: