Attn Educators!
Over the past several years, hundreds of students have joined Vermont Fish & Wildlife Department, Otter Creek Audubon, and local volunteers at the Dead Creek Wildlife Management Area each fall to participate in hands-on bird banding and bird lessons, learning about biological sampling techniques, migratory birds, and more. We are excited to offer this series of lessons online for educators across Vermont.
Educators using this resource should email VTFW Education Specialist Corey Hart at corey.hart@vermont.gov with a list of grades and number of students participating. This allows us to track the use of this online offering.
How to Use This Resource 
This is a combination of hands-on lessons and videos. Teachers should show the videos while reviewing the key messages. After all videos have been shown, conduct one or more of the activities. Several options are provided, and you can pick the best one based on your grade level and/or COVID-19 restrictions.
Points to discuss
What methods are used to band birds?
Why do different birds require different banding methods?
Why do biologists band birds and what do they hope to find out?
---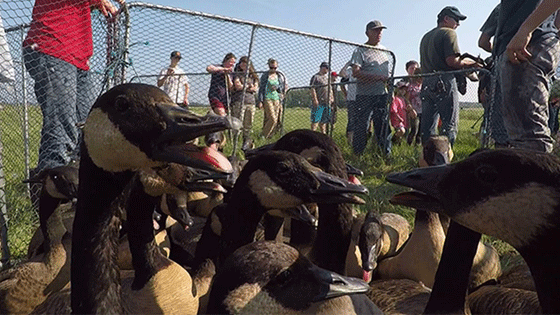 Points to discuss
Why are geese banded in June and not the rest of the year?
---
Points to discuss
What is a migration corridor?
What are the differences between a wildlife refuge and Wildlife Management Area?
Has Vermont always had Canada Geese?
What is one way the Dead Creek Management Area is managed for waterfowl?                 
---
Hands-on Lessons
Option 1. Sketching and Bird Identification
In an outdoor setting have the students locate a bird and sketch it utilizing pad and paper. After they have sketched their bird, which may need to be from memory as they don't always stay in one place for long, have them attempt to identify the bird utilizing field guides.
Through a simulated banding session, students will be introduced to concepts of migration and banding as well as practice data collection and analysis.

Activity link: Bird Banding Simulation | PDF
Vermont Fish & Wildlife staff have been working with collaborators throughout the region, planning an exciting new system that will vastly increase our understanding of bird migration. The system, called Motus (Latin for movement), uses small receiving towers that will be placed at regular intervals across the landscape.

Researchers place tiny transmitters on birds, bats, or large insects, like monarch butterflies, and when the animals pass receiving towers, their location is logged. This allows connect-the-dots maps to be drawn, showing specific locations of known animals at certain times. It provides a level of knowledge about animal movements we rarely get.

Using a large screen, show students the flight patterns of serval different species from New England. This is new technology and shows how far and where these species are flying during there migrations. As students to guess how far or where a particular species might have flown and then show the flight pattern.
See Also: