Monitoring turtle distribution and nesting success helps determine trends and improves management and conservation efforts. Below are summaries for two turtle species the department is currently monitoring.
Spiny Softshell Turtle
State Threatened
The Eastern Spiny Softshell Turtle (Apalone spinifera spinifera) is a medium to large aquatic turtle found in Lake Champlain and the lower reaches of some tributaries with concentrations occurring in Missisquoi Bay and the Lamoille River. It was state-listed as threatened in Vermont in 1987, nationally listed as threatened in Canada in 1991 and as threatened in Québec in 1999.
Threats to Population
Direct loss and degradation of habitat
High predation pressure on eggs and young
Human disturbance
Monitoring Results: 2022 Nesting Season
1,154 hatchlings emerged from 88 nests not destroyed by predators
103 live hatchlings and embryos not yet ready to emerge from underground nests were recovered. Some were given to ECHO for care over the winter and spring (head starting) and the rest were released into Lake Champlain. The unhatched eggs/embryos were incubated and later released into the lake.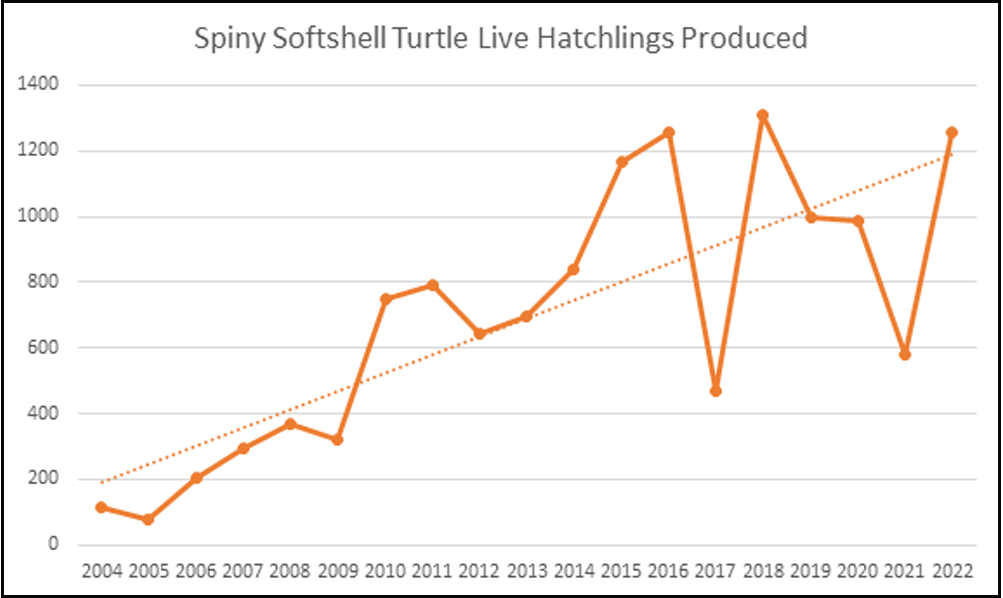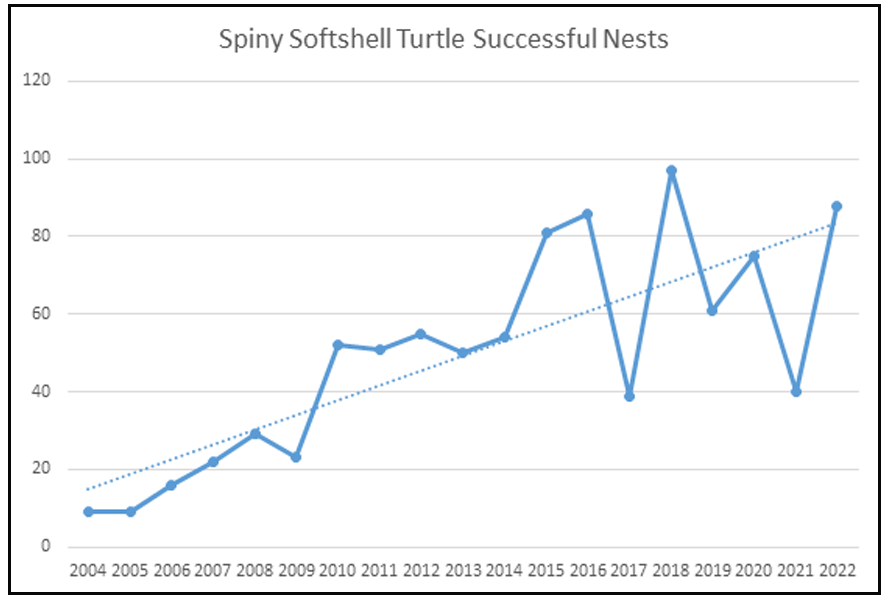 See also:
Vermont Eastern Spiny Softshell Turtle Recovery Plan | PDF
Vermont Eastern Spiny Softshell Turtle Life History
---
Spotted Turtle
State Endangered
The Spotted Turtle (Clemmys guttata) is state endangered and a species of regional conservation concern. It is small (shell usually less than five inches long), has yellow spots on a dark shell, and lives in shallow wetlands. It takes eight to ten years for a Spotted Turtle to reach maturity, and they may live as long as 60-100 years.
Spotted turtles are known from three locations in Vermont. Two of the sites are compromised by surrounding landuse. At one site, a railroad bisects the wetland. Twenty under rail crossings have been installed to allow safe passage of the turtles. A road parallels much of the other compromised site. Both are believed to have very small populations.
The third known site is more robust and found within a large wetland complex, which provides some buffering from surrounding land use.
Threats to Population
Habitat loss and alteration
Isolation of populations
Road mortality
High predation pressure
Collection of wild turtles as pets
See also:
See also: