Finding a place to hunt is relatively easy, but hunters tend to congregate where deer are most numerous, typically on lowland farm country where posting is also common. However, the hunter who shows respect for the landowner and asks for permission to hunt can often find private land to hunt on.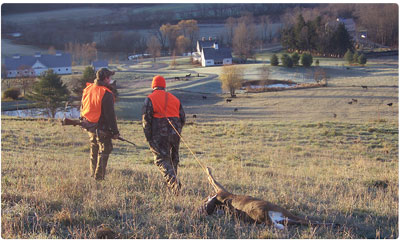 Looking for Bigger Bucks?
Generally, the biggest bucks with the best racks are found at the higher elevations on the Green Mountain Range right up the center of the state from Massachusetts to Canada and in the remote areas northern one-third of the state. However, the greatest numbers of deer are found in the lower elevations, particularly in the central, eastern and southern portions of the state.
Scout First
Public or private, pre-season scouting is necessary. Because most of the state is heavily forested, deer are less likely to use any one trail as regularly as they do in more open country.
Leashed Tracking Dog to Recover Deer
A hunter who believes they have legally killed or wounded a deer during hunting season may engage a person who has a "Leashed Tracking Dog Certificate" issued by the department to track and recover the animal during the season or within 24 hours after the season ends.
Get the List of Leashed Tracking Dog Handlers
See also: