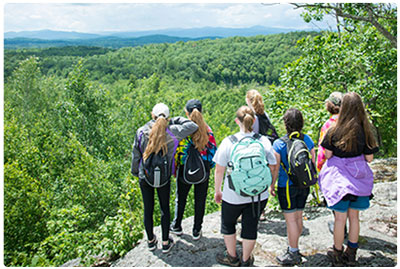 Teens ages 15-17 are invited to spend a weekend full of fun and adventure at the Edward F Kehoe Conservation Camp. Participants will spend the weekend participating on activities taught by department biologists, wardens and other staff. We'll spend the first night in the cabins, and then head out to a remote campsite with meals cooked on an open fire and campers sleeping in tents under the stars. Activities throughout the weekend will be centered around aquatic ecosystems this year, and will include fishing, boating, aquatic biology, and fish processing and cooking. Non-aquatic actives will include 3-D archery, telemetry, wildlife biology, and more!
This is a perfect way to unplug and engage with peers outdoors before heading back to the classroom. Space is limited so register today! Please note: Teen Conservation Weekend is a co-ed event.
Date:  Friday, August 5 through Sunday, August 7, 2022
Location: Edward F. Kehoe Green Mountain Conservation Camp, Castleton VT 
Arrival/Departure: Drop off at 6:45pm Friday and pick up at 4:00pm on Sunday  
Cost: $125.00 (Scholarships available upon request)
Requirements:
Applicants must be between 15 and 17 years old.
Teens will be expected to only bring gear that they can carry themselves, as they will participate in a backpacking trip to a remote pond for camping and fishing. 
Registration:
To register, please complete the following application and send electronically or via mail to:
Hannah Phelps
1 National Life Drive, Davis 2
Montpelier, VT 05620
Hannah.Phelps@vermont.gov
802-249-4199
Teen Conservation Weekend Operating Procedures Under COVID-19
Due to the COVID-19 pandemic and the requirements necessary to keep staff and campers safe and healthy, please be aware that the specific details of how Teen Conservation Weekend may run are subject to change based on the guidance from the Vermont Department of Health and Governor's orders. The current policies are as follows:
Vaccinations are not required by anyone.
Participants who reside out of state will be permitted to attend this summer.
No masks will be required as all activities will take place outdoors.
Pre-Arrival Protocols
In accordance with the guidance from the Vermont Department of Health, proof of vaccination, negative results from a COVID-19 test, or documentation of recovery from a doctor will NOT be required to be brought to registration with the camper for the 2022 season.
GMCC staff still encourage campers to take an at-home test prior to arrival, especially if they are experiencing any cold or flu symptoms. Any last-minute cancellations resulting from a positive COVID-19 test or symptoms will receive a full tuition refund.
Updates to Policies
If any of these policies change, we will reach out to Parent/Guardian #1 via email no later than July 15, 2022. We will also update our website as necessary.
Any questions can be directed to Hannah Phelps, Camp Coordinator, at Hannah.Phelps@vermont.gov or 802-249-4199.
We appreciate your understanding and look forward to seeing you and your teen this summer!