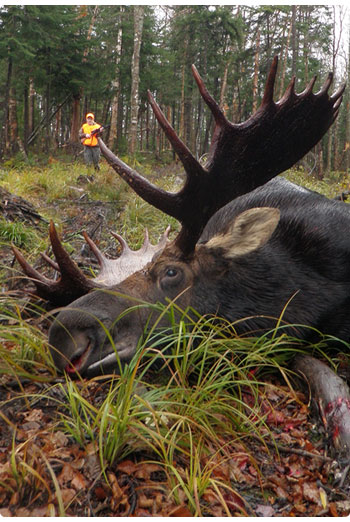 This page provides helpful information for moose hunters on the legal requirements as well as tips for a successful hunt and handling your harvested moose.
Regulations
Tips for a Successful Moose Hunt
Plan Your Hunt
Do some scouting
Remotely – check out Google Earth, Vermont ANR Atlas, or other online map services to locate potential hunting spots.

On the ground – moose prefer areas with lots of young trees, like 5- to 15-year-old clearcuts. If the weather is warm, moose can often be found at higher elevations or in areas of dense softwood (such as spruce or fir trees).

Find and contact landowners

VCGI Parcel Viewer – a useful tool for identifying landowners

Note that no special permission is required to hunt on Weyerhaeuser or Forest Legacy lands as there are public access easements on these properties.
Get some guidance
Consider using a guide that knows the area you'll be hunting.
Consider Various Hunting Methods
Calling – calling can be very effective during the archery season in early October, as it coincides with the peak of the rut. It can also work during the regular season, but bulls may be less responsive after the rut. Give moose plenty of time to respond as they will often travel long distances to investigate a call. Calling can also be combined with any other hunting method.

Walk and stalk – technically called still hunting, slowly walking along old roads or skid trails in good moose habitat can be an effective strategy.

Sit in a blind or stand – If you've found a prime area that moose frequently visit, waiting for moose to come to you may be a good option.
Make a Clean Kill
Choose an effective implement – there are legal minimum caliber and draw weight requirements for moose hunting. Magnum cartridges are not necessary for moose hunting. As long as the implement is appropriate, shot placement is much more important in making a clean kill.

Make a well-placed shot – the best shot placement is in the heart/lung area.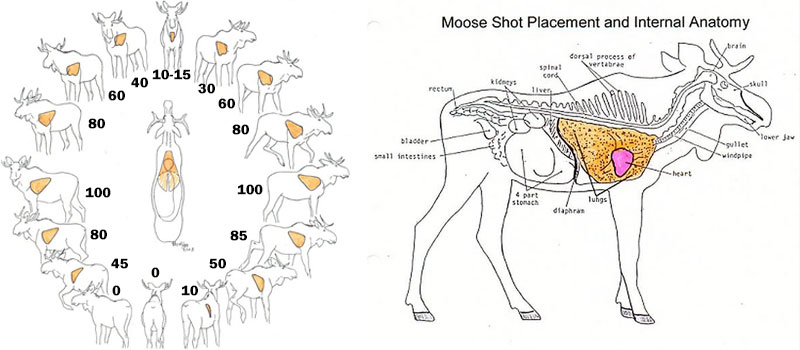 Left: Proportion and percentage of the vital heart/lung area of a moose from different angles. Right: The best place to place your shot if just behind the front leg, 1/3 up on the body. This shot will puncture both lungs and possibly the heart.
Follow up your shot – moose seldom drop in their tracks when shot and may not show any indications of having been hit. Wait a few minutes before beginning the search, and then do so quietly. Pursued immediately, a wounded moose may travel a great distance before dying. Follow up every shot and follow the moose for a distance even if you don't find blood at first.
Properly Field Dress and Transport Your Moose
Field dress immediately – properly field dress your moose immediately after the kill and take every precaution to avoid meat spoilage. This video from the Maine Department of Inland Fisheries and Wildlife demonstrates how to field-dress a moose.

Remove the reproductive tract (if applicable) – if you harvest a cow moose, you are required to provide both ovaries and/or the entire reproductive tract when reporting the moose. This document shows how to find and remove the ovaries. 

These two videos from the Maine Department of Inland Fisheries and Wildlife may also be helpful.

Locating and collecting ovaries from cow moose -  1:00 minute

Locating ovaries in a harvested cow moose – 3:30 minutes

Skin and/or quarter your moose (optional) – there are multiple schools of thought here. Skinning your moose can help cool the meat quicker but leaving the hide on can help keep the meat clean and prevent drying. Quartering your moose in the woods can make it easier to transport and help prevent meat spoilage. This video from the Maine Department of Inland Fisheries and Wildlife demonstrates how to field-dress a moose.
 
Get it out – getting your moose from the kill site to your vehicle or camp will probably be the toughest task you will face. If you're fortunate, you may be able to drive close to the kill site, but most moose will not die close to a road and many of the roads in the moose hunting zones are private and may not be open to public use.

If you choose not to quarter your moose, another possibility is to locate someone with a skidder or work horse. Teamsters are available for hire to help you skid your moose out of the woods. They are especially handy for use on State and Federal land and on private lands with conservation easements (such as Weyerhauser or Forest Legacy Lands) where ATVs are prohibited. The teamsters listed below have experience with moose hauling in WMUs E1 and E2 and have obtained an operating permit from the state.

Mark A. Farrow Logging
Holland, VT
802-673-6239 (cell)
Keep it clean – use game bags, cheesecloth or sheets to protect open meat from flies and road dirt, don't pile gear on the moose, and take care to avoid contamination with gasoline

Keep it cool – after getting your moose out, your primary concern should be keeping the meat cool. Moose are large animals with dark, heavily insulating hides. Keep it out of the sun, even on cool days, and make a concerted effort to cool the meat and keep it that way. Packing ice in the body cavity or around the quartered pieces can help. If you can't provide any cooling, at least allow as much air circulation as possible.
Game Processors That Will Process Moose
Adam's Wild Game Cutting
1226 Rice Hill, Sheldon, VT 05483
802-393-1833
Jeff Houde
487 Kingdom Road, East Burke, VT 05832
802-274-7957
BG's Market Inc.
Rtes. 5 & 12, Hartland VT 05048
802-436-2360
Randy Royar
1179 Creek Road, Irasburg VT 05845
802-754-6537
Kidders Smoke and Cure
313 George Street. Orange, VT 05641
802-498-4550
Zach Fournier
690 Mountain Road, East Haven, VT 05837
802-274-5582
Locke's Wild Game Processing
Codding Hollow Road, Waterville, VT 05492
802-644-6530 or 802-644-5686
Steve Clark
Irish Hill Road, Lowell VT 05847
802-744-2465
Georgia Market
962 Ethan Allen Highway, Georgia, VT 05454
802-527-1100
Reporting Your Moose
By law, you must bring your moose to a reporting station within 48 hours of taking.
Archery Season
All moose must be reported at the business below during normal business hours:
Northern Wildlife Taxidermy
550 East Charleston Road, Island Pond, VT 05846 | 802-723-6659
Regular Season
All moose must be reported to the Vermont Fish & Wildlife Department biological check station located at the Island Pond State Highway Garage, just west (north) of the village on Route 114. The station will be staffed from 9:00 AM to 6:00 PM.
To report a moose after October 21, you must call 802-424-6552 to arrange for a biologist to meet you.
Reporting Requirements
If you harvest a cow moose, you are required to provide BOTH ovaries. Female moose cannot be reported unless this requirement is met. Information on locating the ovaries is available here.

The moose carcass must be completely eviscerated (i.e., the heart, liver, lungs, diaphragm, stomach, and intestines must be removed) before arriving at the check station.

If you quarter your moose in the field, you may leave the head, hide, lower legs, backbone and boned-out ribs in the field. However, you must bring in both central incisor teeth for aging purposes, and the antlers of all male moose.

An incisor tooth will be pulled for aging. If you plan to have your moose mounted, please note that pulling a tooth will not damage your mount in any way.

Finally, you will be required to mark the exact location of your kill on a map. GPS coordinates are very helpful.
Moose Hunter Survey
When hunters receive their permit, they also receive a moose hunter survey to be completed and returned after the season ends, but no later than November 1.  The information from this survey helps the department monitor moose population trends, plan future hunts, and refine the information provided to hunters.
Moose Research
During 2017–2019 the Vermont Fish & Wildlife Department captured and placed GPS tracking collars on 126 moose in WMUs E1 and E2. This was part of a large research project conducted cooperatively with the University of Vermont to monitor survival and productivity of moose in this part of the state with a specific focus on the impacts of winter ticks. More information on the results of this study can be found here. The department is continuing to monitor survival and calf production in the remaining collared cow moose.
Moose Management