Vermont's Lake Champlain is consistently recognized as a top bass destination in the country, and for good reason.
Smallmouth and largemouth bass are incredibly abundant in this 120-mile long lake that forms the border between Vermont and New York, and extends into Quebec. The bass are plentiful, they grow large (averaging two to three pounds), and catching fish over five and six pounds is not uncommon.
Vermont's Spring Bass Catch-and-Release Opportunity
Tips & Techniques
Smallmouth and largemouth bass overwinter in deeper regions of the lake. In the early spring, as water temperatures approach the 50ºF, they migrate towards shallow, protected spawning areas.
Where Should I Fish?
Bass generally move straight from deep water to the closest shallow shoreline, and then make their way along the shoreline towards spawning sites, resting at predictable locations along the way. This is where you want to fish.
Look for areas with a hard bottom, such as gravel, chunk rock and ledge. These areas absorb the sun's heat and are warmer than the surrounding waters. Bass will congregate or "stage" on such structure while they wait for adjacent spawning bays to reach the low to mid-60s.
What Lures Work Best?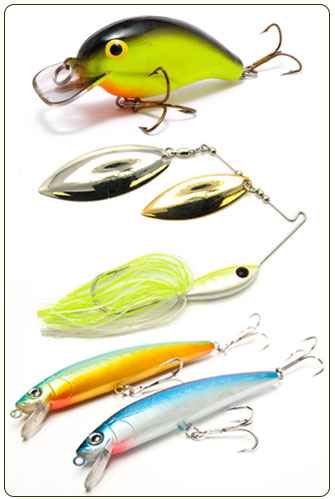 Unlike bass on a nest, pre-spawn staging bass are hungry and aggressive and will absolutely crush artificial lures. The best bets at this time of year are:
How Should I Fish?
Bass fishing this time of year is fun and easy. Find a rocky shoreline or a long tapering point near a potential spawning flat, position your boat a cast-length away, and work your way along, casting tight to shore.
Vary your retrieve until you find what triggers a strike. Use diving crankbaits that run a little deeper than the water depth, so the lure ticks the bottom every once in a while. This often yields vicious strikes. Letting a lipless crankbait sink to the bottom and reeling it back so it ticks the bottom every few feet also works well.
Busting a Myth
A common assumption of anglers not familiar with spring bass fishing is that you're targeting nesting bass, which is generally not the case. Nesting bass are difficult to catch and not worth the effort. Instead, the best fishing occurs before bass build nests and start to spawn. Spring catch-and-release bass fishing is really focused on catching staging "pre-spawn" bass, when they are in large groups along main lake points and shorelines waiting to move into spawning bays.
At peak pre-spawn conditions, two people in a boat can expect catches of 50-75 bass per day, with some anglers gleefully reporting more than 100 catches. Fishing pre-spawn staging bass can certainly spoil you for the rest of the season!
Access Lake Champlain
Spring bass fishing is good throughout Lake Champlain, with the waters south of Chimney Point generally reaching that magical 50ºF to 55ºF mark weeks before the north end, resulting in ample spring bass fishing opportunities as you follow the warming waters north. The south end officially starts at Chimney Point, where a bridge crosses from New York, and runs south for approximately 40 miles.
South of the Champlain Bridge the lake narrows and is more like a meandering river, with the widest point less than a mile across. This end of the lake, generally shallow with large backwater and wetland areas, provides the first of the peak bass fishing in April. It's a highly productive area with plenty of rocky shoreline and marshy back bays, and reaches optimal water temperatures weeks before waters in the north end.
North of Chimney Point, in areas like Mallet's Bay, the Inland Sea, and the Champlain Islands, peak spring bass fishing generally occurs in early to mid-May.
The department has several fishing access areas located on the southern section of the lake including:
Other Vermont Lakes to Fish
Vermont's early season bass fishing regulation applies to all of the state's inland lakes and ponds, not just Lake Champlain. Bass fishing is exceptional in most waters throughout the state.
For Rutland County in the southern Lake Champlain area, best bets include:
Use our Access Area Search for more information on each of these access areas.
Getting to Lake Champlains's "South Lake"
Plug your route into Google Maps.
Distances to Vermont's southern Lake Champlain (Shoreham, VT):
| | | | |
| --- | --- | --- | --- |
| | Kilometres | Miles | Drive Time |
| Burlington, Ont. | 650 | 403 | 6.5 hrs |
| Cornwall, Ont. | 251 | 155 | 3.5 hrs |
| Kingston, Ont. | 382 | 237 | 5 hrs |
| London, Ont. | 760 | 472 | 7.5 hrs |
| Niagara Falls, Ont. | 575 | 357 | 6 hrs |
| Ottawa, Ont. | 422 | 262 | 4.5 hrs |
| Peterborough, Ont. | 559 | 347 | 6 hrs |
| Toronto, Ont. | 700 | 434 | 7 hrs |
| Montreal, QC | 230 | 142 | 2.5 hrs |
| Sherbrooke, QC | 285 | 177 | 3.5 hrs |
| Albany, NY | 172 | 107 | 2 hrs |
| Boston, MA | 314 | 195 | 3 hrs |
| Concord, NH | 210 | 131 | 3 hrs |
| Hartford, CT | 314 | 195 | 3 hrs |
| New York City, NY | 402 | 267 | 4 hrs |
| Portland, ME | 381 | 237 | 4.5 hrs |
| Scranton, PA | 460 | 286 | 5 hrs |
| Springfield, MA | 268 | 167 | 3.5 hrs |
Where to Stay
One of the wonderful aspects of fishing southern Lake Champlain is that the shoreline is practically undeveloped. Most of the shoreline is either densely forested or farmland with rolling fields. However, accommodations for visiting anglers are not far away.
Check out these sites for help finding a place to stay:
Rutland City Chamber of Commerce – find a place to stay close to Lake Champlain's southernmost fishing access areas, as well as a short drive to Rutland County's lakes region.
Mid-Vermont Chamber of Commerce – find a place to stay close to Chimney Point Access Area.
Sportsman Campground and Cottages - offer on-the-water accommodations on southern Lake Champlain.
Vermont Vacations – features a searchable list of accommodations statewide.