Ice fishing is a great way to get outdoors with friends and family, and Vermont offers the greatest variety of top-notch freshwater ice fishing in New England. And with new regulation changes as of January 1, 2022, there are even more great opportunities to enjoy winter ice fishing.
Lake Champlain
Vermont's premier fishing destination, Lake Champlain, offers many ice fishing opportunities. Quality fishing for many species is easy to find on this 120-mile long lake, including landlocked salmon, lake trout, northern pike, yellow perch, white perch, walleye, and crappie.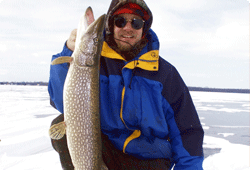 Northern Pike - Traditional northern pike hotspots include Lake Champlain's Kelley Bay, Missisquoi Bay, Dillenbeck Bay, Carry Bay, Keeler Bay, St. Albans Bay, the shallow flats south of the Sandbar Causeway between Milton and South Hero, and the area south of the Champlain Bridge from Addison to Benson.
---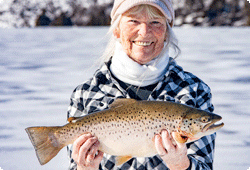 Trout and Salmon - Later, as more ice forms, landlocked salmon can be caught in the Inland Sea north of the Sandbar Causeway. There is no closed season for trout and salmon on Lake Champlain.
---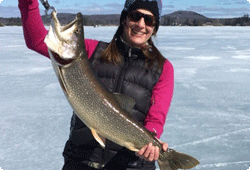 Lake Trout - If cold weather provides good ice on the deep-water areas of the lake, lake trout will be found off the west shore of Grand Isle and in Outer Mallets Bay, Shelburne Bay, Converse Bay, and Button Bay south to the Champlain Bridge.
---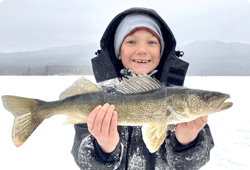 Walleye can show up anywhere in Lake Champlain, the most consistent winter action can be found at the southern end of the lake around Benson and Orwell, as well as the northern end in Swanton and Alburg.
---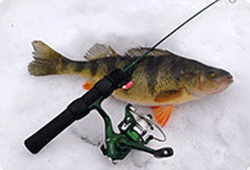 Panfish - Yellow perch, bluegill, pumpkinseed, black and white crappie, and other panfish can be caught in sheltered Lake Champlain bays and shallows as well as in many other inland Vermont waters.
---
Vermont's Other Lakes
Vermont has an abundance of small ponds and large lakes open for ice fishing for trout, salmon and bass. New as of January 1, 2022, general fishing regulations now allow anglers to ice fishing for trout, salmon and bass from January 1 through March 15 on most state waters with some exceptions.
View the List of Lakes With Some Restrictions to Ice Fishing
See also: