Winter means cold temperatures that can keep you indoors and cause a serious case of cabin fever. Ice fishing is a fun and inexpensive way to get outdoors and beat the winter doldrums.
Here are some tips to get you started:
Virtual Ice Fishing Clinic
Welcome to the department's Virtual Ice Fishing Clinic. We have created this Virtual Ice Fishing Clinic to give you the opportunity to learn about ice fishing basics. We encourage you to take this opportunity to learn about ice fishing, and then go out and put your new-found knowledge to use for a new winter hobby. See you on the ice!
Using the Virtual Environment
To enter the Virtual Ice Fishing Festival, click the link below, which will take you to a beautiful virtual view of Lake Rescue, in Plymouth VT. You will see nine learning stations on the ice. To move from station to station, just click and hold your mouse button, and drag left or right. On a tablet or smartphone, swipe with a finger left or right. Tap on the Play Button above each station to enter the station.
Ice Safety
There's an inherent risk walking on frozen water, but risks can be minimized with a little knowledge and common sense.
As a general guideline, 3½ to 4 inches of clear ice is required to walk on and 8 inches for a snowmobile or ATV. Double the thickness if the ice is white or opaque and not consistently clear throughout.

Ice never freezes uniformly, so frequently test ice thickness and solidness with a spud bar or auger as you walk out on the ice.

Ice that has formed over flowing water, springs, pressure cracks, old ice holes or around the mouths of rivers and streams can be weaker than surrounding ice. It's a good idea to stay away from these areas.

Carrying a set of ice picks and a compass for snowy or whiteout conditions is recommended.

Let someone know where you will be fishing, your access point and when you plan on returning home. Bring your cell phone, placing it in a freezer bag to keep it dry.
Gear Basics
Asking a seasoned ice fishing friend to take you out is a great way to quickly learn ice fishing techniques and become comfortable on the ice. But if you're on your own, here's the basic gear you'll need to get started.

Ice Auger -A good ice auger is essential for ice fishing. A four to six-inch hand auger with sharp blades is an inexpensive way to cut through hard ice with ease. Gas and electric augers are more effective at cutting larger holes, but are more expensive and not necessary for beginning ice anglers.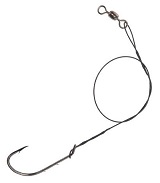 Tackle – Much of the same tackle you use for open water fishing can be used ice fishing including basic hooks, line, sinkers and lures. For example, tube jigs you use for bass will also work for lake trout. You can jig trolling spoons for northern pike, and small jigs tipped with a piece of nightcrawler, waxworm, minnow or small microplastic will catch perch and other panfish any time of the year.
Ice Fishing Rods - Short fishing rods with small open-face spinning reels are fairly inexpensive, and can be purchased at bait and tackle shop or in the sporting goods section of major department stores.
For most applications, filling the reel with four to eight pound test fishing line will work fine. Tying on a small swivel with a snap to attach snelled hooks or small lures and jigs, just like in open water, is very simple and straight-forward.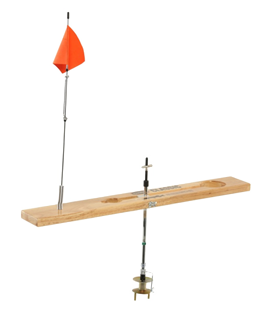 Tip-ups - Tip-ups are a very popular and effective way to ice fish. They are inexpensive and easy to set up and fish.
A tip-up is a stationary fishing reel attached to a shaft on a bracket that spans the hole drilled in the ice. The reel goes under the water, and a live minnow is suspended at a fixed depth under the ice. A special braided or coated line is used to which a short leader of regular line is attached.
A flag on a spring is set under a "T" on the shaft. When a fish takes the bait, the shaft spins, causing the flag to "spring up," indicating you have a bite.
Bait – Live bait is your best bet If you're using tip-ups. Small fathead minnows or medium to large size golden shiners are available at bait shops around the state.
Find a baitfish dealer.

For jigging with an ice fishing rod and reel, use a small weighted jig, bibbet, or spoon, tipped with a piece of nightcrawler, waxworm, or minnow.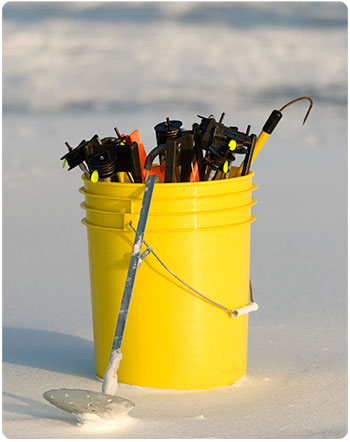 Extras – These items will make your day on the ice a little easier.
Five gallon pails with lids can do double duty as a way to carry tackle and a place to sit while fishing.You can also use them to keep and carry your catch on the trip home.

A plastic minnow bucket is essential if you're using minnows for bait.

A perforated scoop will clean the slush out of your ice hole.

A sled is a convenient way to bring your equipment out on the ice -- and bring tired kids off the ice after fishing.
Staying Warm
Nothing ruins an ice fishing trip quicker than frozen feet and hands. Dressing for a day on the ice is as important as the tackle you bring with you to catch fish.
Dress in layers, starting with a good base layer like natural wool or fleece.

A good quality winter coat and waterproof snow pants are also a must.

Avoid bundling up tightly when walking long distances on the ice, especially in deeper snow. Walking will generate heat and perspiration that can dampen your layers and seep body heat you once you reach your fishing destination. Stay "comfortably cool" as you travel, leaving your coat partially unzipped and removing your winter hat. Bringing a couple of extra layers with you to put on afterwards are good options.

A decent pair of winter boots is essential to avoid cold feet. The key to warm feet is to keep them dry and wear boots slightly larger than your standard size.The extra space in the boots will trap warm air and help keep your feet toasty.

Snowmobile-type boots or simple waterproof rubber boots with high quality liners are good. If wearing this type of boot, remember to remove and dry the liners after each use.

A two layer sock approach works best—a thin pair first and then heavier wool socks over top. Also, if you keep your legs warm by wearing multiple layers, your feet will often stay warmer, too.

Hand and toe warmer packets also offer a great way to keep hands and toes warm.
Making it Fun and Rewarding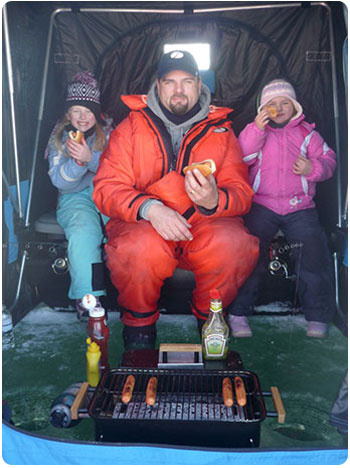 If you bring the kids remember their attention span can be short, so think about ways to keep your kids busy in-between bites.
Consider bringing out a football or something similar to toss around on the ice.

Have lots of snacks and a thermos full of something warm.

Play games, build snowmen, have a snowball fight – make the most out of your day on the ice!

Enjoy your catch - fresh fish caught from Vermont's cold clean lakes are a healthy, local, and nutritious source of food. Learn how to prepare your catch for the table
See also: