Young Vermont hunters take to the field statewide during the annual youth deer weekend in October, three weeks before the opening day of the regular rifle deer hunting season in November.
To participate, you must be 15 years old or younger on the weekend of the hunt and have successfully completed a hunter education course.
License Requirement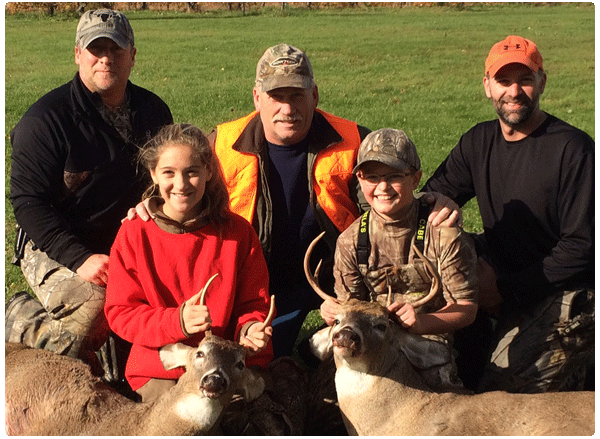 You must hold a valid hunting license and be accompanied by an unarmed adult who holds a valid Vermont hunting license and is over 18 years of age.
You must also obtain a free youth deer hunting tag.
A Mentored Hunting License may not be used to take a deer on Youth Deer Hunting Weekend.
Limit
One deer of either-sex.
Need to Know
The accompanying adult must have direct control and supervision, including the ability to see and communicate with the youth hunter without the aid of artificial devices such as radios or binoculars.

Landowner permission is required to hunt on private land, even if it is not posted.

No antler restrictions.

This deer counts towards season deer limit of four. However, youth hunters may harvest two bucks per year provided one is taken during youth weekend.
Regulations
See Vermont Fish & Wildlife Regulations for specific rules about deer hunting.
Biological Reporting Stations
Several of the Big Game Reporting Stations will have department personnel collecting biological information about the deer harvest for youth weekend. This is a great opportunity to get your deer weighed, aged and examined by a state wildlife biologist. Plus, you will be directly contributing to deer management in Vermont.
Along with having your deer examined and aged by a biologist, youth hunters visiting a biological reporting station will receive a hunter-cooperator deer patch.
Nice to Know
Deer are still concentrated near food sources. Target apples, corn and green fields, as well as oaks and beech in good mast years.
See also: